Skip to content
Skip to navigation menu
Harrisons Wild Bird Food Sunflower Hearts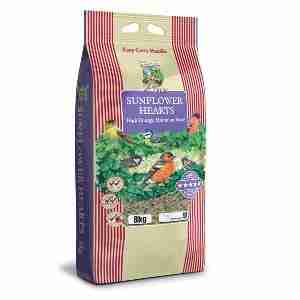 Product details
Encourage wild birds to pay a flying visit to your garden with Harrison's wild bird food sunflower hearts.

What it's for
Putting out food for birds encourages them to visit your garden, and also helps to keep them healthy during the cold months. Whether you have a small balcony or a sprawling field, you can attract them by serving up a good sprinkle of healthy seeds like these sunflower hearts. Use them to top up hanging bird feeders, pop them on your bird table or scatter some on the ground. While it's nice to feed the birds all year round, it's especially important in the winter. When the temperature drops, lots of natural food sources (like worms, bugs and berries) start to disappear. If birds know that they can get something tasty to eat from your garden, they're more likely to come back.

Key benefits
husk-free formula means less waste (and less cleaning up)
can be scattered on the ground, placed on a bird table or popped in a hanging feeder
packed with essential oils to keep feathers and joints in tip-top condition
protein-rich sunflower hearts offer extra energy
nutritious mixture provides energy to wide range of wild birds
How it works
Lots of garden birds love munching on sunflower hearts, so this tasty mix is sure to cause a flap when you pop it on your bird table. Sunflower hearts are jam-packed with protein, giving birds lots of energy to flutter around. They're also high in essential oils, keeping plumage shiny and joints supple. Harrison's wild bird food doesn't contain any seed husks, so your birds won't leave lots of leftovers on your bird table.
Customer reviews
Product reviews are filtered by language.
The following reviews are available in English.
GREAT BIRD FOOD

Good value,birds love them,would reccommend

Our birds go mad for these sunflower hearts, they love it. I have ordered several times from you and the price and free delivery cannot be beaten.

I would recommend this to everyone... no waste, birds eat it within minutes, very good/fresh quality, a little more expensive than normal sunflower seeds, but no empty shells to clean up. Excellent!

Moved house and hated leaving all birds new house had none - started feeding all Harrisons bird foods and no birds become hundreds all gorgeous all types - great food and reasonable - love it !!

Buying cheaper versions of sunflower seeds is a false economy. There is zero waste, unlike black sunflower seeds, where the birds leave husks everywhere. Very happy with Harrisons range.