Skip to content
Skip to navigation menu
Healthy Paws Adult Dog Food Natural Complete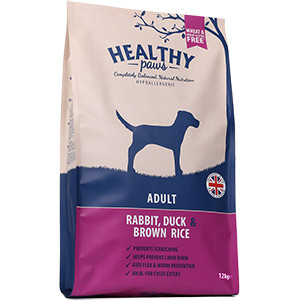 Product details
Healthy Paws Adult Dog Food
Rabbit & Brown Rice Complete Food
Rabbit & Brown Rice is a nutritionally balanced complete dog food formulated from quality natural ingredients for all stages of your dogs adult life.
We do not add any flavour enhancers, colourings, chemical additives or preservatives that you can find in other dog foods. There are no additives, meat and animal derivatives, by-products or any other unsuitable ingredients appropriate for the dog. We only use the highest quality meat protein and other natural ingredients in a well balanced and complete formula.
The use of low quality ingredients, meat and animal derivatives, by-products and chemical preservatives that are found in other dog foods may be associated with numerous ailments including skin problems, allergies, dental disease, poor health, digestive disorders and internal organ diseases.
Rabbit provides a highly digestible source of good quality protein that is very nutritious. Whole brown rice provides an excellent source of highly digestible carbohydrates for short term energy and dietary fibre that is gentle on the stomach.
We have added oats to provide a slower release of energy along with carrot and cranberry providing valuable vitamins and minerals including vitamin C. Fish oils and organic sunflower oil provide a source of omega 3 essential fatty acids and Linoleic acid which are essential for maintaining a healthy skin and coat, whilst Seaweed is an excellent source of iodine and minerals. In addition we have added the natural herbs alfalfa, dandelion and cleavers for their known health benefits.
Healthy Paws Rabbit & Brown Rice is hypo-allergenic as it does not contain any wheat, wheat gluten, beef, soya, dairy products or any other ingredients that are associated with allergies or intolerances. It is a certified holistic product. This ensures that the product is manufactured to clearly identifiable quality standards and that the food contains a range of ingredients that reflect the natural diet of the dog.
Healthy Paws Natural Nutritious Dog Food
At Healthy Paws we produce delicious, 100% natural, nutritious, healthy dog food and treats.
Our food and treats contain absolutely no preservatives, additives, flavourings, salt, added sugar, chemicals or unnatural ingredients of any kind. They are all dairy free with no wheat or wheat gluten and with no by-products or GM products.
The basis of our dog food is born out of an ideal to provide a natural, wholesome food and treat range to supplement a natural, holistic lifestyle for your dog.
All of our food and dog biscuit products have been certified as a holistic product by the British Association of Holistic Nutrition and Medicine.
Our food and treats are wholesome and nutritious and they provide a complete balance of all the essential minerals and vitamins your dog needs every day.
Our natural dog food and treats are suitable for dogs suffering from skin allergies or food sensitivity as they contain no ingredients that are associated with causing such illnesses.
About Us
Healthy Paws has been founded by Lisa Horne and is a small family run business.
Lisa has always been interested in the health and well being of pets and she developed her deep seated love of dogs and cats as an Animal Care Assistant at the R. S P. C. A in Southport. Whilst working at the Rescue Centre she completed a course in Animal Care during which time she became particularly interested in nutrition. Lisa later trained as a Veterinary Nurse in a local veterinary practice.
Whilst at the veterinary practice she was seeing numerous diseases and ailments that were as a result of feeding mass produced commercial dog food which contain numerous preservatives, additives, meat and animal derivatives, cereals, by-products and totally unsuitable ingredients appropriate to the dog and cat.
Lisa became very interested in a more natural diet for dogs and she undertook research in connection with nutrition and the benefits of a natural diet on the health of the animal. In conjunction with nutritional advisors and veterinarians we have developed the Healthy Paws range of natural dog food and treats. Our focus has been to produce an overall feeding philosophy that incorporates both a complete nutritionally balanced food along with a treat range which complements this.
Our complete food and range of treats are natural and healthy as our main aim and consideration is the health and welfare of our pets. Each individual ingredient has been carefully selected to provide particular nutritional benefit for the dog
Ingredients
Ingredients:
Brown Rice, Rabbit meat meal, Oats, Dried Carrot, Alfalfa, Seaweed, Chicken Oil, Salmon Oil, Organic Sunflower Oil, Minerals, Vitamins, Dandelion herb, Cleaver herb, Dried Cranberry.

Typical Analysis :
Protein 21%, Oil 7. 5%, Fibre 2. 5%, Ash 6%, Vitamin A 10, 000iu/kg, Vitamin D3 1, 500iu/kg, Vitamin E 75iu/kg, Copper 18mg/kg.
Customer reviews
Product reviews are filtered by language.
The following reviews are available in English.
Heathly Paws Dry Dog food

I have been using Healthy paws dog food for years. Tried a other make last time when I couldn't get Healthy paws. There was far more dog waste then Healthy Paws, so the product was of poor quality. But after saying all this I am having trouble getting it now. And they have put chicken fat in far more then they used to. It is harder to get hold of now. Healthy paws disagree with me on this. And now is same price but weight is less 12 kg used to be 15 kg.But I am still using it. As my dog is fine on it as he has chicken up sets him. And most dog food has a lot of chicken. So I have to be careful what I buy.

High quality natural food great for skin problems

I have used Healthy Paws Adult Rabbit & Brown rice for several months now. I originally bought it for my white GSD who has had atopic dermatitis for several years. Since using this in combination with Viacutan oil internally and coconut oil externally I have seen a vast improvement in his skin. He has far fewer outbreaks, his skin, which used to be "elephantine" in places has improved and he produces much less scurf. His tail was almost like a rats at one point - he lost most of his lower tail hair after the vet did a skin scraping. The hair is now growing back, and the rest of his coat is much thicker and softer. He loves the taste and I also use it for my Golden Retriever as he loves it too. In his case I noticed that his "winter nose" has darkened since starting on this food. Highly recommended, and the price was the best available on the internet, with fast delivery.

A product comes along which promotes a healthy diet and lifestyle in dogs, and not an off the shelf derivative product, full of additives, to specifically make the food itself sit on the shelf longer.I help care for a 14 year old Labrador cross Springer. He has previous and existing health problems, most recently heart related. This food is 30p per day more expensive than his normal "off the shelf" food. I have witnessed a marked improvement in him, from start to finish, and I mean to finish! Kudos!

I have a 6 yr old collie cross who is a fussy eater and a 5 yr old labrador with a very sensitive tum. when i got the labrador every food we tried( which was a lot) made her ill then we were reccomended healthy paws and havn't looked back. They are both happy and healthy and i would not feed them anything else.

I have a 12 year old Westie, as a puppy he was very prone to skin allergy and always had a windy tum. i was introduced to healthy paws rabbit & Rice, 9 years ago.. he has never since had a problem is very healthy and still enjoys it.. i have also a min dachshund that is also on this, and again he has just won a healthy dog rosette! great product...