Skip to content
Skip to navigation menu
You have setup the following Repeat Order: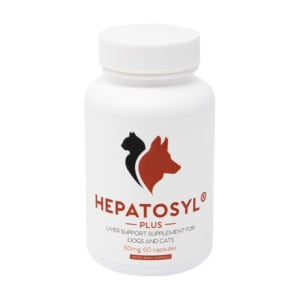 Hepatosyl Plus Liver Support Capsules for Dog & Cat
Product details
Hepatosyl is the UK's leading veterinary hepatic supplement. HEPATOSYL PLUS contains the same ingredients as original HEPATOSYL but now also contains Silybin, the most active isomer of Silybum marianum (milk thistle).
Any disease causing reduction in bile flow (cholestasis) or reduced intestinal fat absorption can result in a reduction in the uptake of fat-soluble vitamins (A,D,E and K). K is essential for blood clotting, and hence defficiency can lead to coagulation abnormalities - these have been documented in over 80% of cats and dogs with naturally occurring liver disease.
Administration for cats and dogs:
Capsules may be given whole or opened and mixed with food
Extra small 50mg capsules for cats
Anaesthetic support - administer for one week prior to and following anaesthesia
Long-term use - administer once daily for 2-3 months and then reduce to every other day for long-term maintenance
The number of capsules can be gradually reduced or may increase at any time depending on the pet`s specific needs. Capsules to be given orally.
To ensure that you read the most up to date information about this product, please check the VMD's Product Information Database.
Legal category: AVM_GSL | Product Information Database