Skip to content
Skip to navigation menu
Hill's Ideal Balance Adult Mature Dog Food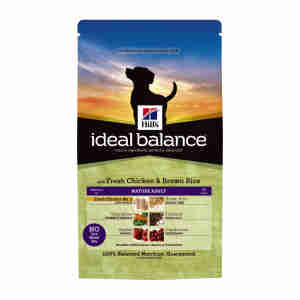 Rollover image to zoom
Product details
Is your pet entering their golden years? Help them make the most of them with Hill's Ideal Balance Adult Mature Dog Food, a complete dry kibble packed with tasty chicken.
What it's for
Different breeds age at different speeds, so it's a good idea to talk to your vet about the age when your dog will qualify as a senior, even if they'll always be a puppy at heart. This complete dry dog food is specially designed to support the areas that older dogs sometimes struggle with, like their eyesight and their joints.
It's ideal for senior dogs, with easy-to-digest brown rice to give them lots of energy, and fatty oils to keep their joints comfy when on the move – older dogs still love their walks, after all. It's also free from common allergy triggers like maize, wheat and soy, so most senior dogs can happily enjoy this kibble.
Key benefits
Specially designed for older dogs
Contains chicken and brown rice for protein and energy
Fatty oils support healthy joint cartilage
Free from maize, wheat and soy
Easily digestible
Packed with fruit and veg to support healthy immune systems
How it works
This senior dog kibble is made from yummy chicken, with lots of lean protein for maximum energy. The carbohydrate-rich brown rice is easy to digest, while fibre-packed peas and beet pulp help ensure your dog is getting the most out of their food. It also contains lots of extra ingredients that older dogs need in their diet, like fatty acids. These support and repair joint cartilage and help prevent old bones from locking up and going stiff. Since older dogs can be more at risk of illness, it's also full of fruit and veg to support the natural defence system and keep them on their paws – not to mention helping their eyesight stay sharp and on the ball.
Ingredients
Fresh chicken (14%), brown rice (12%), barley, oats, brewers' rice, yellow pea flour, animal fat, dried chicken, chicken meal, dried beet pulp, digest, minerals, flaxseed, pea powder, apple powder, cranberry powder, carrot powder, broccoli powder, vitamins, taurine and trace elements. With a natural antioxidant (mixed tocopherols).
Customer reviews
We're sorry but there are no reviews of this product in English.