Skip to content
Skip to navigation menu
Hill's Ideal Balance Adult No Grain Dog Food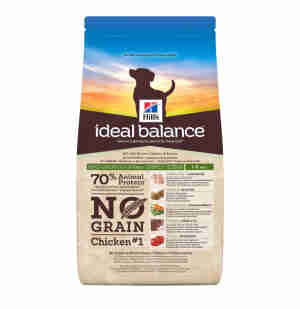 Rollover image to zoom
Product details
Give your dog all the nutrients they need with Hill's Ideal Balance Adult No Grain Dog Food. The all-natural mix includes tasty and wholesome chicken.
How it works
Dogs love the flavour and aroma of chicken and it's a great source of energy for active, playful pets. This high-quality protein is full of omega-3 and -6 fatty acids too, which support a healthy skin and coat, supple joints and strong muscles. Hill's mix also contains fruits and vegetables, which bring added flavour and nutrients. Apples are rich in vitamin C to boost your pet's natural defences, cranberries are a natural antioxidant to ward off infections and peas are rich in potassium to support strong muscles.
Some pets are allergic or intolerant to grains. This grain-free food avoids that problem and contains high-quality carbohydrates from potato and brown rice, which are easy for your dog to digest.
The mix is also free from artificial colours, flavours and preservatives.
Key benefits
Nutritionally complete dry food
Made with tasty and nutritious chicken
100% natural ingredients
Vitamin-rich fruits and vegetables boost the immune system
Grain-free with high-quality carbs potato and rice
No added artificial colours, flavours or preservatives
When to use it
If you have an adult dog, Hill's Ideal Balance Adult No Grain Dog Food contains all the nutrients they need to live a healthy and happy life. And because it's grain-free, the food can help encourage regular toilet habits and firmer stools for you to scoop up.
Check the back of the pack for feeding guidelines, and if you're changing your dog's diet, gradually mix the new with the old to avoid any upset stomachs. Always make fresh drinking water available for your pet.
Web content composed with thefree online HTML editor. Please purchase a membership to remove promotional messages like this one.
Ingredients
Fresh chicken (14%), potato (14%), pea protein concentrate, yellow pea flour, potato starch, animal fat, chicken meal, dried beet pulp, digest, flaxseed, minerals, pea powder, apple powder, cranberry powder, carrot powder, broccoli powder, vitamins, trace elements and taurine. With a natural antioxidant (mixed tocopherols).
Customer reviews
We're sorry but there are no reviews of this product in English.