Skip to content
Skip to navigation menu
Hill's Prescription Diet Canine b/d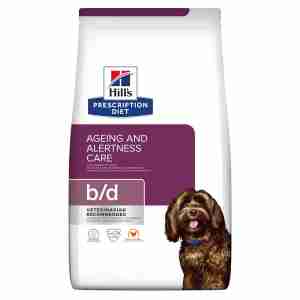 Rollover image to zoom
Hill's™ Prescription Diet Therapeutic Dog Food
If your pet is ill or has health problems, Prescription Diet offers a broad range of clinically proven therapeutic nutrition to help alleviate your pets' most important health concerns.
Broad range of clinically proven nutritional solutions
The range includes tasty dry and canned therapeutic nutrition to help aid a range of diseases such as urinary conditions, dermatology problems, renal disease, mobility issues, gastro-intestinal disease and obesity.
Evidence-based clinical nutrition
Hill's™ are dedicated to the continual improvement of all our products and through Evidence-Based Clinical Nutrition™ we combine the latest scientific research evidence with clinical expertise to help alleviate your pets' health concerns.
Hill's Prescription Diet pet food is a therapeutic nutrition and therefore is only available from your vet or PET SUPERMARKET.
No prescription is required to purchase Hills Prescription Diet Feline from PET SUPERMARKET.
Hills™ Prescription Diet™ Canine b/d™
Prescription Diet™ b/d™ Canine is a complete pet food for the nutritional management of pets with behavioural changes associated with brain ageing.

Key Benefits
With special antioxidants and omega-3 fatty acids to maintain brain function and improve learning ability in older dogs.
Reduced protein, salt and phosphorus to help maintain heart and kidney health in the older dog.
By purchasing Hill's Prescription Diet Canine B/D you confirm your pet has been examined by a vet who has recommended the use of this food on the basis of examination and diagnosis. You understand it is recommended while your pet is being fed Hill's Prescription Diet Canine B/D, you seek veterinary advice at least every 6 months regarding the usage of this food and the on-going care of your pet. Should your pet's condition deteriorate in any way while using Hill's Prescription Diet Canine B/D seek immediate veterinary advice.

All Hills™ super premium pet products come with a 100% satisfaction guaranteed or your money back, simply return your purchase back to PET SUPERMARKET®*

*Please note that you will be responsible for the cost of returning the product back to PET SUPERMARKET® and you will be eligible for a full refund of the price paid for the food. If you received free delivery with your order, and the refund brings your order total under the PET SUPERMARKET® free delivery threshold you will be charged at the prevailing rate as per our postage tariff on the day on which you placed your order.
Ground maize, ground wheat, chicken and turkey meal, animal fat, soybean mill run, digest, flaxseed, tuna meal, soybean meal, vegetable oil, tomato pomace, carrot powder, dried whole egg, spinach powder, citrus pulp, grape pomace, potassium chloride, L-carnitine supplement, salt, L-lysine hydrochloride, calcium carbonate, taurine, L-tryptophan, alpha-lipoic acid, vitamins and trace elements. Contains EU approved antioxidant.
It is recommended that a veterinarian's opinion be sought before use or before extending the period of use.
Customer reviews
Product reviews are filtered by language.
The following reviews are available in English.
We've had excellent results with this food with our 13-year-old Alaskan Malamute, who was very confused and anxious a year ago. The vet put her on very expensive medication to help with the onset of senile cognitive dysfunction, but we were able to take her off it after just a month on Hill's b/d di

We have been feeding our ageing malamute this food for some time now. We started because she was showing typical mental ageing signs - whining, restless, urinating in the house. After three months on this food I would say her symptoms have reduced by 80 - 90%. Very impressive.

My elderly dog has been on this product for over 2 years and it makes a big difference to his senility, i would recommend this to any dog who seems to be mentally not as aware as they used to be