Skip to content
Skip to navigation menu
Hill's Prescription Diet Feline k/d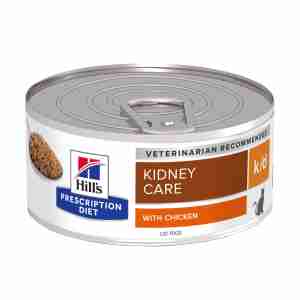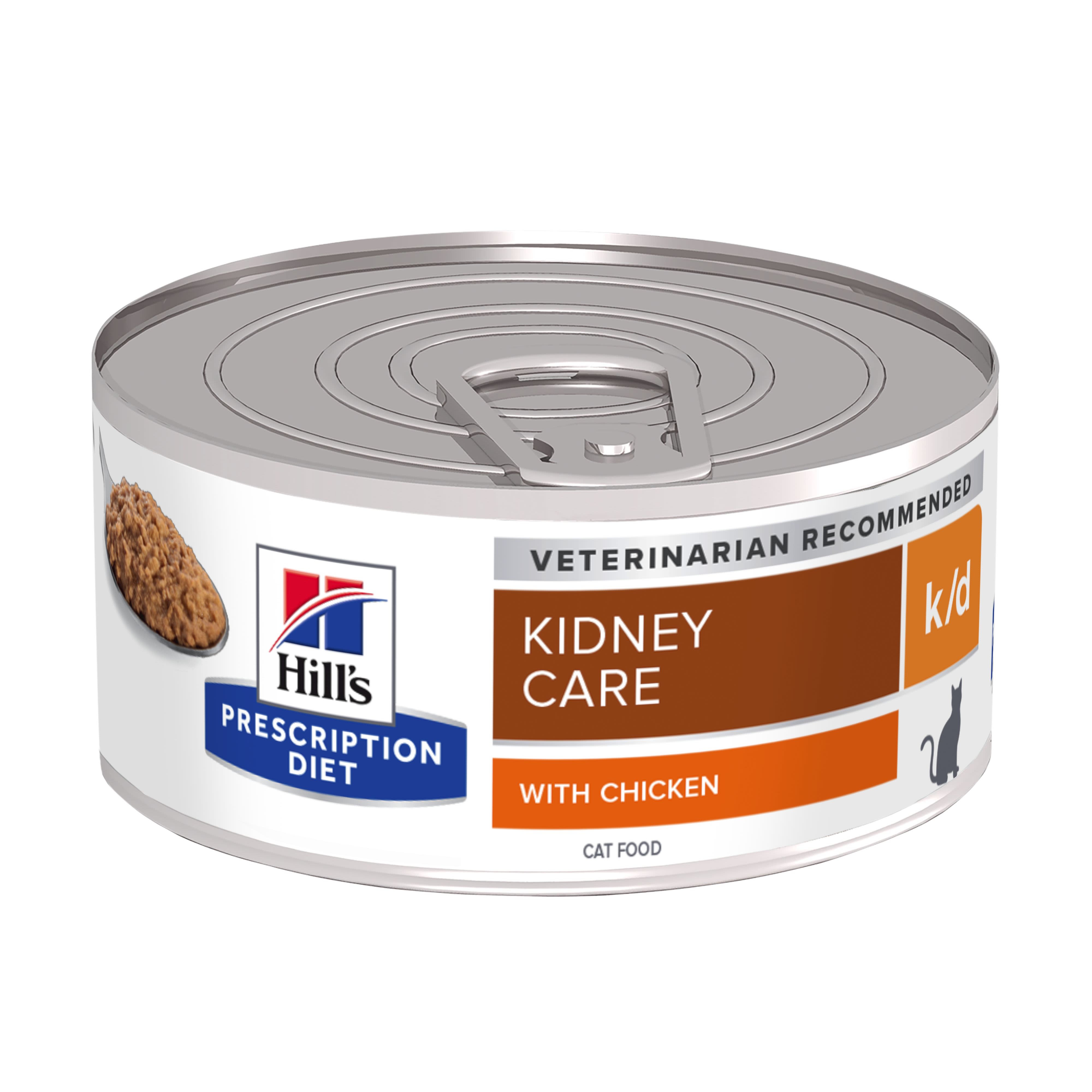 If your cat has kidney disease, Hill's Prescription Diet Feline K/D will help them live a longer, happier life.
What it's for
Your cat's kidneys are there to remove nasty waste products from their blood and keep the balance of vitamins and minerals in their body just right. Because this is such a crucial job, it's important to take your cat to the vet straight away if you think their kidneys might not be working properly. It tends to be older cats who get kidney damage, but don't assume your younger cat is completely protected; if you notice them licking something they shouldn't, like antifreeze or lily pollen, they need to see a vet as soon as possible.
There are plenty of easy-to-spot signs of diseased or damaged kidneys you can look out for. Cats with kidney issues might drink or pee more than usual or lose interest in their food. You might also notice that they're being sick or getting diarrhoea a lot. Your vet will be able to let you know for sure if your cat has kidney disease and help you find the best way of treating your pet.
Key benefits
food is low in protein so it's easier for the kidneys to deal with
antioxidants wipe out nasty free radicals, which otherwise give the kidneys extra work
low in salt to stop high blood pressure
yummy flavour to bring back kitty's appetite.
How it works
Lots of protein can do your cat's kidneys more harm than good when they're damaged, so this food contains only small amounts to give the kidneys less to deal with. Particles known as free radicals can cause harm to your cat's body if they're not dealt with properly by the kidneys. A high level of antioxidants in the food helps your cat get rid of these nasty free radicals. Antioxidants are also great for your cat's immune system and help it fight off any other diseases and infections your pet comes into contact with.
Too much salt is bad for us and can make kidney disease worse. A diet low in salt helps protect against high blood pressure and relieves the burden on the kidneys.
Veterinary diets like this one have been specially made to support pets with specific medical conditions. Because of this, we'd recommend getting professional advice before feeding this food to your pet. If you think your cat could benefit from eating Hill's Prescription Diet Feline K/D, why not have a chat with your vet?
No prescription is required to purchase Hills Prescription Diet Feline from PET SUPERMARKET.
By purchasing Hill's Prescription Diet Feline K/D you confirm your pet has been examined by a vet who has recommended the use of this food on the basis of examination and diagnosis. You understand it is recommended while your pet is being fed Hill's Prescription Diet Feline K/D, you seek veterinary advice at least every 6 months regarding the usage of this food and the on-going care of your pet. Should your pet's condition deteriorate in any way while using Hill's Prescription Diet Feline K/D seek immediate veterinary advice.
All Hills™ super premium pet products come with a 100% satisfaction guaranteed or your money back, simply return your purchase back to PET SUPERMARKET®*
*Please note that you will be responsible for the cost of returning the product back to PET SUPERMARKET® and you will be eligible for a full refund of the price paid for the food. If you received free delivery with your order, and the refund brings your order total under the PET SUPERMARKET® free delivery threshold you will be charged at the prevailing rate as per our postage tariff on the day on which you placed your order.
Ingredients
Prescription Diet™ Feline k/d™ Minced with Chicken Cans - Minced with Chicken (minimum 14%):, Pork liver, chicken, pork, ground rice, oat fibre, maize starch, glucose, animal fat, potassium citrate, psyllium, calcium carbonate, calcium sulphate, fish oil, taurine, DL-methionine, iodised salt, vitamins and trace elements.

Prescription Diet™ Feline k/d™ Tender Chunks in Gravy with Chicken Pouches - with Chicken (minimum 4%): Pork liver, chicken, vegetable oil, maize starch, wheat fibre, lamb liver, wheat gluten, rice starch, maize syrup, fish oil, calcium sulphate, potassium citrate, potassium chloride, DL-methionine, calcium chloride, iron oxide, taurine, calcium carbonate, L-cystine, iodised salt, caramel, magnesium oxide, vitamins and trace elements.

Prescription Diet™ Feline k/d™ Dry - Ground rice, maize gluten meal, animal fat, chicken and turkey meal, dried whole egg, soy fibre, fish oil, digest, flaxseed, calcium carbonate, potassium citrate, potassium chloride, DL-methionine, L-lysine hydrochloride, taurine, salt, L-tryptophan, vitamins and trace elements. Contains EU approved antioxidant.
It is recommended that a veterinarian's opinion be sought before use or before extending the period of use.
Customer reviews
Product reviews are filtered by language.
The following reviews are available in English.
Really Helps

My elderly cat has been diagnosed with kidney problems by my vet. She cannot take dried food so I was recommended to use this food. She has no problems eating it. And is doing really well on it. Delivered to my door is a real bonus.

Great service and price

My 13 year has started to show indicators so I am currently mixing this in with his dental and senior dry food. He is a pretty fussy eater but seems to get on with this fine.

Always great service

My 17 year old ragdoll cat has been on this food a while now and it has really improved his kidney function- blood tests at vets show this. Always the best deals on here as I like to buy in bulk. Great stuff

Great Service and Product

My cat has to have special diet for kidney disease. Pet Supermarket not only gives good value but I can rely on them to deliver promptly and send an appropriate replacement when my product was unavailable nationally. Fantastic service

Very friendly helpful staff when you call

K /d kidney food wet & dry