Skip to content
Skip to navigation menu
Hill's Prescription Diet Feline r/d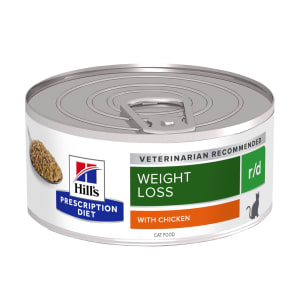 Product details
Help your cat stay healthy and happy by feeding them Hill's Prescription Diet Feline r/d to manage your furry friend's weight.
What it's for
Is your cat looking a little more plump than usual? Are they heavier when you pick them up for a cuddle? If you've noticed that your cat's weight been creeping up, they might be eating more than you realise. You can check to see if your cat is overweight by giving their sides a gentle squeeze. You should be able to feel the rib cage, which is generally a sign they're at a good weight. This is really important because, just like us, your pet might start to suffer health problems if they're overweight, including difficulty breathing and diabetes.
Even if you have been keeping an eye on what your cat is eating, they might be trotting down the road to get treats from your neighbours. One thing you can do to help them stick at their ideal weight is to feed them meals that are as healthy as possible. Hill's Prescription Diet Feline r/d can help to reduce your cat's weight as well as control it.
Key benefits
fights weight gain from overeating thanks to a tasty and satisfying recipe
L-carnitine helps break down fat
packed full of fibre to encourage a healthy metabolism
vitamins C and E boost your cat's immune system
contains antioxidants to fight free radicals.
How it works
The recipe's specially designed to be full of ingredients your cat will love eating every day, as well as making sure they feel full for longer to stop overeating.
One of the ingredients is L-carnitine, which helps the natural breakdown of fat. It'll help your cat to grow lean muscles, keeping them strong and healthy. Added fibres can contribute to keeping up your cat's metabolism, as well as making your pet feel full to stop them from eating too much.
Vitamins C and E can keep your cat's immune system in top condition too, while antioxidants help prevent the formation of 'free radicals' in your cat's cells. Free radicals, if they're not treated, can attack healthy cells, potentially damaging your pet's immune and nervous systems.
Veterinary diets like this one have been specially made to support pets with specific medical conditions. Because of this, they might not be suitable for all pets, so we'd recommend getting professional advice before feeding them to your pet. If you think your cat could benefit from eating Hills Prescription Diet Feline r/d, why not have a chat with your vet?
Keep your cat's living environment clean and hygienic with our Catsan White Hygiene Cat Litter to absorb liquid before they start to smell.
Ingredients
Ingredients
Prescription Diet™ Feline r/d™ - Ground maize, chicken and turkey meal, cellulose, maize gluten meal, digest, animal fat, potassium chloride, L-carnitine supplement, vegetable oil, salt, taurine, calcium carbonate, vitamins and trace elements. Contains EU approved antioxidant.

Prescription Diet™ Feline r/d™ Minced with Liver - Minced with Liver (minimum 30%): Pork liver, cellulose, pork, maize starch, ground rice, chicken, maize gluten meal, vegetable oil, calcium carbonate, dicalcium phosphate, calcium sulphate, potassium chloride, DL-methionine, taurine, iodised salt, digest, L-carnitine supplement, vitamins and trace elements.
Dosage
It is recommended that a veterinarian's opinion be sought before use or before extending the period of use.
Customer reviews
Product reviews are filtered by language.
The following reviews are available in English.
Excellent

Extremely good service and reasonable prices.

Excellent service from Medicanimal.

Reliable swift service. Medicanimal always deliver swiftly and are reliable. Price is competitive. I am very happy to recommend them.

Hills r/d

Easy website to use, great value and delivered to your door in two days. Excellent.

Hills rd dry feline

Excellent product. My cats enjoy this and it helps maintain their weight.

Slimline for Summer - Happy Cat!

The R/D diet really does work! My cat was 5.6 kg and diagnosed as morbidly obese before switching cat food!