Skip to content
Skip to navigation menu
Add to an existing Repeat Order
Add to an existing Repeat Order
Licensed item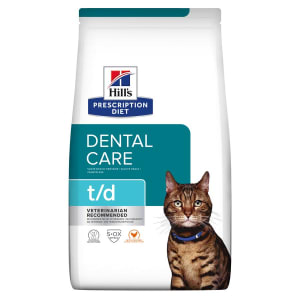 Hill's Prescription Diet Feline t/d
This is a licensed item so for regulatory reasons and to ensure we are providing the best product for the health of your pet, we need to ask you to confirm a few details.
Please confirm the type of animal you will be giving this licensed product to:
I am aware of the relevant safety precautions relating to the licensed products.
I will read the packaging and product literature before using any licensed products, and will use all licensed products according to the manufacturer's datasheet
I am not buying for resale and I am happy to be contacted if required
I confirm that the animal the licensed products will be given to is in general good health
I confirm that the animal the licensed products will be given to is NOT pregnant or lactating
Add to an existing Repeat Order
Licensed item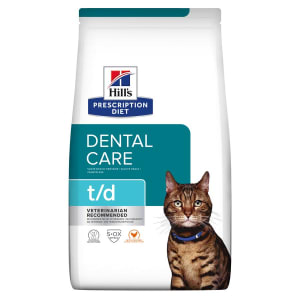 Hill's Prescription Diet Feline t/d
This is a licensed item so for regulatory reasons and to ensure we are providing the best product for the health of your pet, please read and confirm the details below:
By purchasing this product, you confirm your pet has been examined by a vet who has recommended the use of this food on the basis of examination and diagnosis.
You understand it is recommended while your pet is being fed this product, you seek veterinary advice at least every 12 months regarding the usage of this food and the on-going care of your pet.
Should your pet's condition deteriorate in any way while using this product, seek immediate veterinary advice.
Add to an existing Repeat Order
You are adding: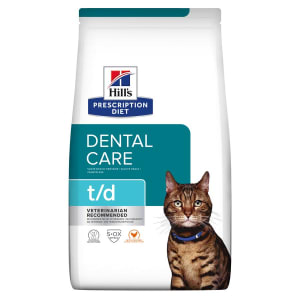 Hill's Prescription Diet Feline t/d
To the following repeat order:
Next order due on:


Delivered every
text.account.new.upcoming.orders.payment.brand.
Add to an existing Repeat Order
Thank you, we have updated your order. Your order is due on
You're setting up the following repeat order: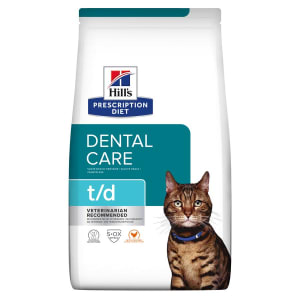 Hill's Prescription Diet Feline t/d
Product details
Hill's Prescription Diet Feline t/d has been formulated by vets and nutritionists to support oral health in cats.
How it works
The food cleans your cat's teeth while they eat. The specially shaped, extra-large kibbles completely cover the tooth before breaking apart, allowing the fibres (which are specially aligned in a matrix) to wipe the surface clean. As well as removing unsightly stains, the fibres also help get rid of plaque and tartar.
The recipe also contains marginally less calcium and protein than other foods, discouraging the build up of plaque and tartar. The recipe is fortified with anti-oxidants, which combat free radicals – molecules which can cause cell damage. This food is nutritionally complete, meaning it can fully replace every meal. It's recommended for lifelong feeding of cats with dental issues.
Key benefits
gives your cat nutrients it needs for a healthy diet
specially shaped kibbles clean teeth
fights plaque
reduces bad breath
best results if used as only food source
reduced protein and calcium limit plaque and tartar build up
not recommended for cats with severe periodontal disease
not recommended for cats currently receiving urinary acidifiers.
When to use it
If your cat is suffering from dental issues, they'll probably show signs of having a sore mouth. Look out for excessive drooling, trouble eating and pawing at their mouth. Non-behavioural signs could include brown or yellow tartar build up on the teeth, bad breath, and tooth loss. Oral health is important: not just to avoid painful toothache, but also to keep your cat's system healthy. Bacteria build-up on teeth has been shown to have a negative effect on the kidneys, heart and metabolic systems.
This food is designed for cats that often have problems with plaque, stained teeth, tartar, gingivitis and very bad breath. It's not recommended for severe periodontal disease, so it's important to speak to your vet for a proper diagnosis and treatment.
Because veterinary diets are formulated for the nutritional support of pets with specific clinical conditions, we recommend that you only use them under professional advice. For more information on feeding Hill's Prescription Diet Feline t/d to your cat, please consult your veterinary surgeon.
Ingredients
Composition:
Chicken and turkey meal, ground maize, ground rice, maize gluten meal, cellulose, animal fat, vegetable oil, digest, potassium chloride, calcium sulphate, salt, DL-methionine, dicalcium phosphate, taurine. Contains EU approved antioxidant.
Feeding Guide
Recommended quantity/day:
| Cat`s Weight (kg) | Dry food (grams) |
| --- | --- |
| 2 | 35 - 45 |
| 3 | 45 - 65 |
| 4 | 55 - 80 |
| 5 | 65 - 95 |
| 6 | 75 - 105 |
| 7+ | 14 per kg |
Always make sure that your cat has access to plenty of water.
Dosage
It is recommended that a veterinarian's opinion be sought before use or before extending the period of use.
Customer reviews
Product reviews are filtered by language.
The following reviews are available in English.
Hills td

Recommended by our vet some years ago and it is the one item that all six of our Cats enjoy.

Top quality product.

Recommended by rescue centre. My young cat always excited when hears the noise of the biscuits being put in bowl. Always eats every piece and greatly controls mouth problems.

Amazing!

I first bought this product three years ago on the advice of my vet - my then seven-year-old cat had a build-up of tartar which needed expensive dental treatment, but the vet suggested I tried this first. One year later, the problem had gone - my cat loves this food and thrives on it. I can't recommend it highly enough.

Dental Care T/D

Excellent product. Mine have been on them most of their lives- and when I recently ran out of them and bought another more expensive product which the vet sells - they just would not eat them!! They get so excited when the new bag of Big Biscuits arrives !! Great service too-- returning customer and will continue to buy from you. Thanks...

Keeping my cats young

Does what it claims to do! My 9-year-old cats are both thriving and have healthy teeth due to a daily serving of this. So glad we paid out and did what the vet advised us to do. It helps that the cats love this too! A little goes a long way so it is good value for money.