Skip to content
Skip to navigation menu
Hill's Prescription Diet Feline w/d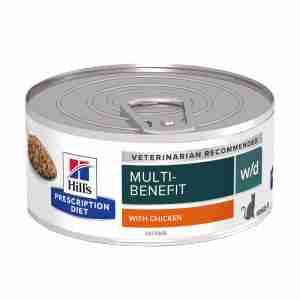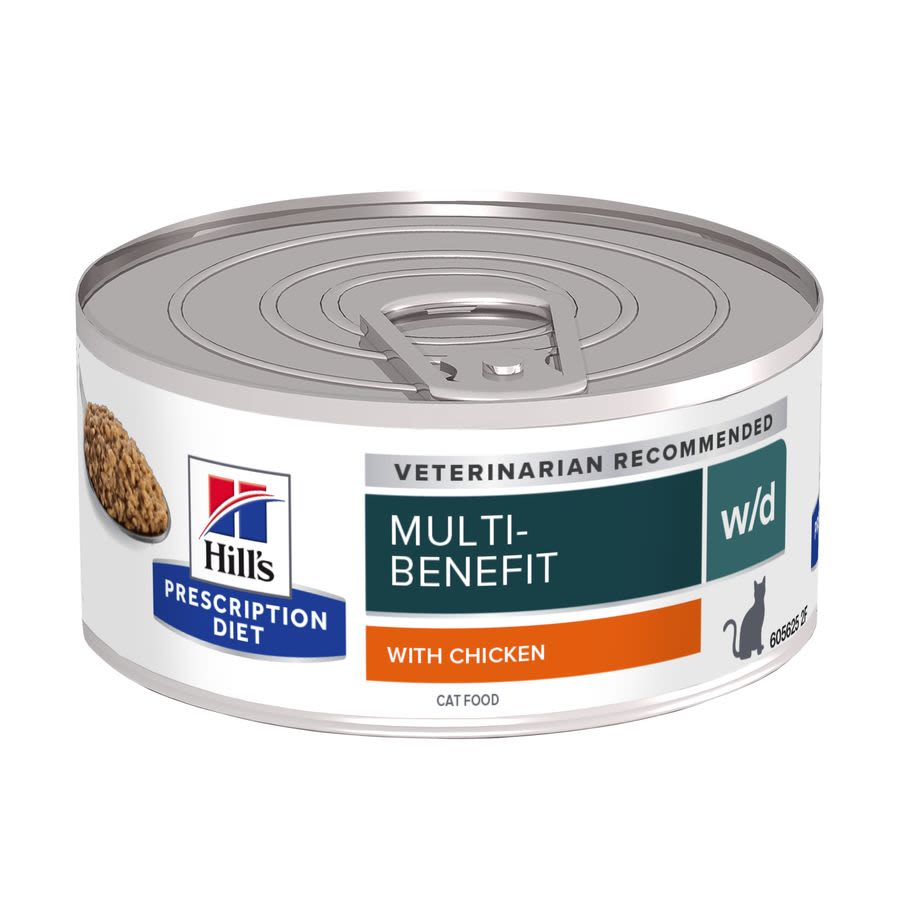 Hill's Prescription Diet Feline w/d is a complete food formulated to help cats achieve and maintain their ideal weight
How it works
This food is formulated to be low in calories and fat to help aid weight loss, but still taste delicious to stop your cat feeling deprived. High levels of dietary fibre will keep your cat feeling full despite having eaten fewer calories, making it easier to cut down on treats between meals. Added L-carnitine works with your cat's metabolism to burn fat and maintain muscle, helping them regain a lean and healthy appearance.
The high levels of fibre in the food are also beneficial for your pet's digestion, keeping their system moving and regulating bowel movements. Antioxidants work in a similar way, preventing potential stomach upsets by neutralising harmful toxins in your cat's gut.
Key benefits
low in calories and fat to aid weight loss
high levels of dietary fibre keep your cat feeling full
L-carnitine helps burn fat and maintain muscle
fibre maintains and regulates digestion
antioxidants work to neutralise potentially harmful free radicals.
When to use it
If your cat has been gaining weight gradually for a while, you might not have noticed that they have become overweight. Symptoms which may indicate your pet is heavier than they should be include a lack of energy, reluctance to exercise, or exhaustion after light activity. If you suspect that your cat is overweight or obese, it's best to take them to the vet for a weight and health check before beginning any weight loss programme.
Obesity is one of the most common health issues faced by cats in the UK and if not treated it can lead to serious conditions such as arthritis, heart disease and diabetes. If you are aware that your cat is prone to putting on weight, there are simple steps you can take to keep them at their ideal size and shape. By ensuring your cat has plenty of play time and exercise, you will keep them happy as well as helping them maintain muscle and lose fat. A high quality, low calorie diet, fed as recommended for your cat's size and weight, will also help to keep them trim and healthy.
Because veterinary diets are formulated for the nutritional support of pets with specific clinical conditions, we recommend that you only use them under professional advice. For more information on feeding Hill's Prescription Diet Feline w/d to your dog, please consult your veterinary surgeon.
Ingredients
Prescription Diet™ Feline w/d™ - Chicken and turkey meal, ground maize, maize gluten meal, cellulose, ground rice, digest, animal fat, potassium chloride, vegetable oil, L-carnitine supplement, calcium sulphate, dicalcium phosphate, taurine, salt, vitamins and trace elements. Contains EU approved antioxidant.

Prescription Diet™ Feline w/d™ Minced with Chicken - Minced with Chicken (minimum 5%):, Pork, pork liver, chicken, cellulose, maize starch, oat fibre, calcium carbonate, calcium sulphate, potassium chloride, digest, taurine, DL-methionine, L-carnitine supplement, vitamins and trace elements.
It is recommended that a veterinarian's opinion be sought before use or before extending the period of use.
Customer reviews
Product reviews are filtered by language.
The following reviews are available in English.
Efficient service and cheaper than the vets

Website is easy to navigate and the re-order option is also good. Our cat has been on W/D for years now and it's a lot cheaper to buy through MedicAnimal than to buy it through the vets.

Good food and good service

Hills W/D is an excellent product which was prescribed by my vet for my cat. She loves it and appears to be doing very well on it. Medicanimal is an easy site to navigate and I get top quality service here.

Best product out there...and he even likes it!

Our 21 year old cat Tom was put on the w/d formula from Hills a few years back and I was worried that he was going to hate it but it seems to have gone down a storm and he's still eating it years later! The price and the fact that it is delivered has meant that I'm in no way worried about the fact that I need to use this food for him and so far I've not found another website or shop that can match this website.

My teenage ginger boy is diabetic and this is his perfect food. He's turned down all others and always beats me to the kitchen at mealtimes cos he's eager for his Hills. This food also ensures that he's well fed whilst helping to keep his diabetes at bay. Couldn't ask for more. Have used other Hills prescription diets with other cats over the years and I'd recommend the brand to anyone as it's proved itself to be the best each and every time.

This was prescribed to one of our cats following a bout of constipation but had has the added bonus of helping our other cat to lose weight. They had only really been fed on dry food before but both took to this really quickly. We have tried other wet foods, but keep coming back to this as the favourite. A great quality product.