Skip to content
Skip to navigation menu
Add to an existing Repeat Order
Add to an existing Repeat Order
Licensed item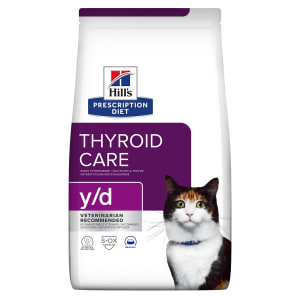 Hill's Prescription Diet Feline y/d
This is a licensed item so for regulatory reasons and to ensure we are providing the best product for the health of your pet, we need to ask you to confirm a few details.
Please confirm the type of animal you will be giving this licensed product to:
I am aware of the relevant safety precautions relating to the licensed products.
I will read the packaging and product literature before using any licensed products, and will use all licensed products according to the manufacturer's datasheet
I am not buying for resale and I am happy to be contacted if required
I confirm that the animal the licensed products will be given to is in general good health
I confirm that the animal the licensed products will be given to is NOT pregnant or lactating
Add to an existing Repeat Order
Licensed item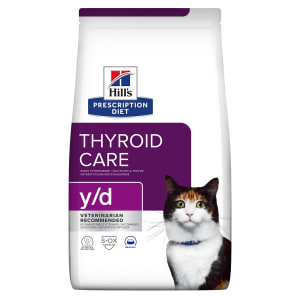 Hill's Prescription Diet Feline y/d
This is a licensed item so for regulatory reasons and to ensure we are providing the best product for the health of your pet, please read and confirm the details below:
By purchasing this product, you confirm your pet has been examined by a vet who has recommended the use of this food on the basis of examination and diagnosis.
You understand it is recommended while your pet is being fed this product, you seek veterinary advice at least every 12 months regarding the usage of this food and the on-going care of your pet.
Should your pet's condition deteriorate in any way while using this product, seek immediate veterinary advice.
Add to an existing Repeat Order
You are adding: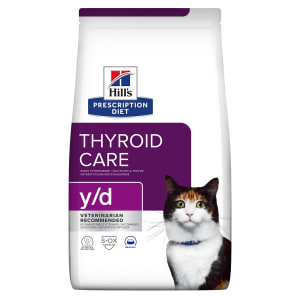 Hill's Prescription Diet Feline y/d
To the following repeat order:
Next order due on:


Delivered every
ending
Add to an existing Repeat Order
Thank you, we have updated your order. Your order is due on
You're setting up the following repeat order: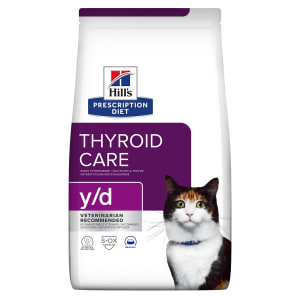 Hill's Prescription Diet Feline y/d
Product details
Hill's Prescription Diet Feline y/d is a special food that can help to improve your cat's thyroid health.
What it's for
Hyperthyroidism (an overactive thyroid gland) is quite common in cats – especially middle-age or older ones. It's often found in cats aged 13 or above. Signs to look out for are weight loss, eating more, a dull coat, thirstiness, going to the toilet more, trouble breathing, a scruffy appearance, a weird heartbeat, acting a bit hyper, being aggressive, thickened nails, being sick and having diarrhoea. You might even notice that their thyroid gland is bigger. Have a gentle feel around your cat's neck and see if you can find any lumps. Some of the symptoms mentioned could be signs of other nasty illnesses like kidney failure and intestinal lymphoma, so if you notice them it's important to get in touch with your vet right away.
Key benefits
low iodine to stop the thyroid glands from producing too many hormones
low in phosphorus and sodium to support kidney health
balanced level of minerals to keep bladder healthy
added L-carnitine supports heart health
contains omega-3 and omega-6 fatty acids for a healthy and shiny coat
designed to be your cat's only food source during treatment
expect results within three weeks.
How it works
Hill's Prescription Diet Feline y/d is specially designed to help keep your cat's thyroid healthy. The recipe is low in iodine, which the thyroid gland uses to make hormones. Making sure your cat eats less iodine helps to keep their hormones at a normal level, reducing the symptoms of hyperthyroidism.
As well as helping with thyroid problems, the food also gives your cat all the nutrition they need for a healthy life. It has low phosphorus and sodium (great for the kidneys) and the balanced level of minerals can stop bladder stones from forming. It's also got high levels of L-carnitine to keep their heart healthy, and omega fatty acids for a gorgeous coat. Because this food is specially balanced, it needs to take the place of all their meals to make sure they aren't getting iodine anywhere else. You will most likely see results within three weeks.
Veterinary diets like this one have been specially made to support pets with specific medical conditions. Because of this, they might not be suitable for all pets, so we'd recommend getting professional advice before feeding them to your pet. If you think your cat could benefit from eating Hill's Prescription Diet Feline y/d, why not have a chat with your vet?
Ingredients
Corn Gluten Meal, Pork Fat, Whole Grain Corn, Soybean Mill Run, Egg Product, Chicken Liver Flavor, L-Lysine, Potassium Citrate, Lactic Acid, Dicalcium Phosphate, Fish Oil, Choline Chloride, Calcium Carbonate, Calcium Sulfate, DL-Methionine, Taurine, L-Tryptophan, Brewers Dried Yeast, vitamins (Vitamin E Supplement, L-Ascorbyl-2-Polyphosphate (source of Vitamin C), Niacin Supplement, Thiamine Mononitrate, Calcium Pantothenate, Vitamin A Supplement, Riboflavin Supplement, Vitamin B12 Supplement, Pyridoxine Hydrochloride, Folic Acid, Biotin, Vitamin D3 Supplement), minerals (Ferrous Sulfate, Zinc Oxide, Copper Sulfate, Manganese Sulfate), L-Carnitine, Mixed Tocopherols for freshness, Natural Flavors, Beta-Carotene
Feeding Guide
Adult maintenance
| Weight of Cat | Amount per Day |
| --- | --- |
| 6 lb (2,7 kg) | 1/3 cup (40 g) |
| 8 lb (3,6 kg) | 3/8 cup (45 g) |
| 10 lb (4,5 kg) | 1/2 cup (65 g) |
| 12 lb (5,4 kg) | 5/8 cup (80 g) |
| 14 lb (6,4 kg) | 2/3 cup (85 g) |
| 16 lb (7,3 kg) | 3/4 cup (95 g) |
| 18 lb (8,2 kg) | 3/4 cup (95 g) |
Use only as directed by your veterinarian.
Customer reviews
Product reviews are filtered by language.
The following reviews are available in English.
Cat looking so much better

Our 20 year old cat was diagnosed with an over active thyroid. She had lost a lot of weight and spent most of the day sleeping. After giving her Hills Y/D she is gaining weight, her coat looking healthy and she is playing again and enjoying life.

It really does work!

Our girl 16 was losing weight rapidly but was constantly scavenging for food and her coat was getting very tatty. We tried this food on review recommendations and would never look back. It took a matter of weeks for us to see a difference and now 8 months on she's put all her weight back on and is far more active than she has been in years. It's honestly like a new cat with as many others have said a new lease of life. I had no idea this diet plan would be so successful but thank you hills you've saved our little one and she's content again x

Great product

My cat was losing weight rapidly and had a really high heartbeat. Vet said we should be prepared for her to keel over any moment, but suggested this food for hyperthyroidism. In only a few weeks there was a real difference. Putting on weight thick coat and happy to eat only this, both wet and dry. Since April put on 500 grams, heart rate halved. We've just had her 21st birthday. New lease of life. Unbelievable.

Amazing results in just 4 weeks ,very high thyroid readings back to within normal range!

Our 19 year old cat was diagnosed with an overactive thyroid. At her age the only option was this food. Fussy madam not keen on the tins - but loves the dried food. Just 4 weeks later her thyroid readings were within normal range, and she has put a little weight on too. Now 4 months on, she is a different cat, been given new lease of life. I was sceptical of reviews I read before we bought the food - they were right. Thank you Hills Y/d, without this food it would have been a very different story

y/d diet for cats

great efficient service and at good price!Since giving it to my cat who is 20 yrs old who's thyroid level was 54 which went down to 47,so was well worth it instead of going for the chemical way or surgery.