Skip to content
Skip to navigation menu
Hills Prescription Diet Feline z/d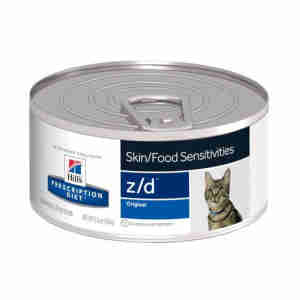 Product details
Hill's Prescription Diet Feline z/d is a specially developed cat food designed to combat a broad range of health concerns and leave your cat healthier and happier.
How it works
Formulated using extensive scientific research, Hill's Prescription Diet Feline z/d is packed with the essential nutrients to maintain your cat's general health. It is low in allergens, which helps to keep your cat free from harmful allergic skin conditions. Also, it is high in essential fatty acids, which help to nourish your cat's skin and keep its coat thick and healthy. Packed with antioxidants, Hill's Prescription Diet Feline z/d helps to neutralise free radicals, reducing your cat's risk of cancer and atherosclerosis.
This complete cat food has been specially designed to tackle a range of health concerns such as urinary conditions, dermatology problems, renal disease, immobility, gastro-intestinal disease, and obesity, to make your cat stronger and more energetic.
Key benefits
targets a wide range of health problems including: urinary conditions, dermatology problems, renal disease, immobility, gastro-intestinal disease, and obesity.
high levels of essential fatty acids nourish the skin and coat
neutralises free radicals with high levels of antioxidants
uses single animal source protein to minimise adverse reactions to food.
When to use it
If you have any concerns about the wellbeing of your cat, your vet will be able to offer a diagnosis and provide suggestions for further treatment. Provided your cat is over a year old, they may recommend Hill's Prescription Diet Feline z/d as the basis of your cat's regular diet as a way to tackle a number of health problems. If your cat may be from food allergies, intolerances or sensitivities, Hill's Prescription Diet Feline z/d can be used as an elimination food to rule out intolerances in case of chronic pruritus, otitis externa and gastrointestinal illnesses. These can cause discomfort and pain, so it is best to contact your vet at the first sign of concern.
Because veterinary diets are formulated for the nutritional support of pets with specific clinical conditions, we recommend that you only use them under professional advice. For more information on feeding Hill's Prescription Diet Feline z/d to your cat, please consult your veterinary surgeon.
Ingredients
Ingredients
Prescription Diet™ Feline z/d™ ULTRA Allergen-Free Cans - Chicken liver hydrolysate, maize starch, vegetable oil, cellulose, calcium carbonate, DL-methionine, dicalcium phosphate, potassium chloride, iodised salt, taurine, calcium sulphate, vitamins and trace elements.

Prescription Diet™ Feline z/d™ Low Allergen Dry - Ground rice, rice protein concentrate, chicken liver hydrolysate, vegetable oil, dried chicken liver hydrolysate, calcium carbonate, cellulose, potassium chloride, dicalcium phosphate, salt, calcium sulphate, taurine, vitamins and trace elements. Contains EU approved antioxidant.
Dosage
It is recommended that a veterinarian's opinion be sought before use or before extending the period of use.
Customer reviews
Product reviews are filtered by language.
The following reviews are available in English.
Good second choice

My gorgeous 10 year old tabby was diagnosed two years ago with IBD and was put onto Hills Science Perscitption D/D by the vet and was thriving really well on it as a wet food. However when Hills stopped producing the DD last year, we had to find a suitable alternative without upsetting the IBD. The Z/D has become that alternative. Hes not keen on it every day for every meal and we are not keen on the smell but it is working and he is a happy contented kitty once more.

Excellent

My cat was really poorly on so many other food products. As soon as we tried her on the ZD she became better instantly. She has such lovely fur.

It has worked for my cat!

My cat was prescribed this z/d diet about 3 years ago, and I have been advised by the vet to keep him on it because he is doing so well. He used to be sick at least once or twice a day and was very unhappy, but since being on this food, he is very rarely sick only when he has furballs!! and is thriving. His coat is glossy and he is very agile, even at 12 years old, and was described by the vet as being a beautiful, healthy cat. He loves the dry and wet food, and if his wet food is not put down soon enough he lets me know about it!! He loves it.

Skin allergy

My 5 year Cat gets regular skin allergies and has to have steroid injections so have changed her onto this dry food to try to prevent the allergic reactions. She absolutely loves the food and her heads healing nicely. The food is delivered quickly and easily

Had to persevere with our cat but got there in the end!

We bought a pack of the dry food and a pack of the wet food the picture is confusing, if you want the wet food select the option 24 x 156g which is 24 small tins of wet food. Like many other people have said, our cat ate the dry food but would not touch the wet. She is very fussy and she just kept looking at it and walking off! It is a mousse like consistency so I tried putting it in her bowl in one big lump and then in smaller 'pieces' which seemed to work better. I just kept putting the wet food out for her every morning then throwing it away when she didn't eat it and putting dry food out in the evening as normal. By the end of the first week, after a lot of wet food ending up in the bin, she started to realise that she wasn't getting anything else so she started to eat it. Now we are on week 7 or 8 and she eats all of it every time - not usually all in one go but by the afternoon her bowl is empty. And she used to always leave some of her old food!