Skip to content
Skip to navigation menu
You have setup the following Repeat Order: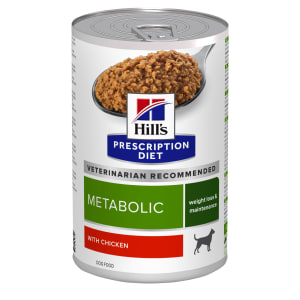 Hill's Prescription Diet Metabolic Weight Management Wet Dog Food - Chicken
Hill's Prescription Diet Metabolic Weight Management Wet Dog Food - Chicken
Product details
Hill's Prescription Diet Metabolic helps your dog lose weight safely and comfortably.
What it's for
Sometimes it can be hard to notice that your dog's gained a lot of weight just by looking at them. But you might be more likely to notice them having a lot less energy than they used to, panting more than usual or slowing down. Often the best way to deal with an overweight pet is to make sure they get a lot more exercise and eat less – no more sneaky under the table treats!
It's a good idea to get your dog checked out by a vet though, so you can find out if your furry friend has any health issues behind their weight gain. They can also see if the extra weight has caused any problems of its own. They might have some recommendations on how your dog can lose the weight.
Once your pet's slimmed down again, you can maintain their new healthy shape through plenty of energetic walks, playtime and the right balanced diet.
Key benefits
96% of dogs lost weight with this food
dogs can lose up to 28% of their body fat in two months
helps reduce the risk of weight gain
dogs feel full and satisfied throughout
available in both dry and wet formulas.
How it works
Your dog's body has evolved to hold onto all the fat it can! A relaxed lifetime of snoozes on your sofa and walkies means that all that fat storage isn't as important anymore. Hill's Prescription Diet Canine Metabolic has been specially designed to encourage your pet's body to burn fat instead of store it. This means you can feed them normal portions so they stay comfortable as they slim down, making their diet easier on both you and them.
Veterinary diets like this one have been specially made to support pets with specific medical conditions. Because of this, they might not be suitable for all pets, so we'd recommend getting professional advice before feeding them to your pet. If you think your dog could benefit from eating Hill's Prescription Diet Canine Metabolic, why not have a chat with your vet?
Click here to check your dog's body condition
Ingredients
Dry food
Composition:
Wheat, chicken (14%) and turkey meal, maize gluten meal, pea bran meal, maize, digest, tomato pomace, cellulose, flaxseed, dried beet pulp, coconut oil, animal fat, dried citrus pulp, dried grape pomace, spinach powder, minerals, L-lysine, L-carnitine, vitamins, taurine, trace elements and beta-carotene. With natural antioxidant (mixed tocopherols).
Analytical constituents:
Fat 11.3%, fibre (crude) 13.3%, moisture 8.5%, protein 26%.
Nutritional additives (per kg):
Vitamin A 9735 IU, vitamin C 122 mg, vitamin D 759 IU, vitamin E 675 mg, beta-carotene 2 mg, calcium 0.84%, carbohydrate 35%, L-Carnitine 290 mg, magnesium 0.12%, Omega 3 -fatty acids 0.72%, Omega 6-fatty acids 2.08%, phosphorus 0.62%, potassium 0.74%, sodium 0.33%, taurine 1062 mg.
Wet food
Composition:
Pork, maize, egg whites, chicken, cellulose, rice, tomato pomace, flaxseed, coconut oil, minerals, DL-methionine, carrot powder, L-leucine, salt, vitamins, trace elements, taurine, L-carnitine, beta-carotene.
Analytical constituents:
Fat 3.4%, fibre crude 4%, moisture 74.5%, protein 7.2%.
Nutritional additives (per kg):
Vitamin A 13860 IU, vitamin C 25 mg, vitamin D 93 IU, vitamin E 135 mg, beta-carotene 1 mg, calcium 0.2%, carbohydrate 9.5%, L-Carnitine 90 mg, L-lysine 0.44%, magnesium 0.02%, Omega 3 -fatty acids 0.23%, Omega 6-fatty acids 0.67%, phosphorus 0.15%, potassium 0.21%, sodium 0.1%, taurine 383 mg.
Feeding Guide
Recommended quantity/day:
Dog`s Weight (kg)
Dry food (grams)
Cans 370 g
Weight loss
Weight maintenance
Weight loss
Weight loss
2
40
60
1/3
1/2
2.5
45
70
1/2
2/3
3
50
80
1/2
2/3
4
60
100
2/3
1
5
75
120
2/3
1
6
85
135
-
-
7
95
155
-
-
7.5
100
160
1
1 1/2
8
105
170
-
-
9
115
185
-
-
10
125
200
1 1/3
2
15
170
275
1 2/3
2 2/3
20
210
340
2
3 1/3
30
285
460
2 2/3
4 1/2
40
355
570
3 1/2
5 1/2
50
420
675
4
6 1/2
60+
8 per kg
13 per kg
4 2/3
7 1/2
A 370g can is equal to 104 grams of the dry food.
Always make sure that your dog has access to plenty of water.