Skip to content
Skip to navigation menu
Hill's Science Plan Canine Adult Oral Care Chicken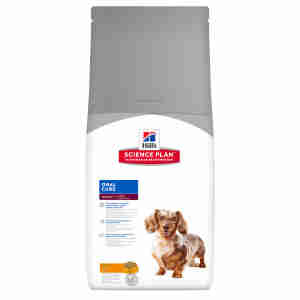 Rollover image to zoom
Product details
Hill's™ Science Plan™ Canine
Hill's™ Science Plan™ offers a wide range of products that are clinically proven to provide a precise balance of antioxidants and high quality ingredients to meet your pets' specific needs.
Hill's™ Science Plan™ provides a precise balance of 50 nutrients to keep your pet healthy at every stage of its life. Meeting specific needs through superior nutrition while avoiding excesses and deficiencies. All of our Science Plan™ products contain a proven, powerful and exclusive antioxidant formula to support a healthy immune system. A healthy immune system is essential to keep pets in peak condition throughout life.
Because we only use the highest quality ingredients, we are able to deliver great tasting products your pet will love. To provide variety, we also offer many of our products in a choice of exciting flavours. At Hill's™ we're pet owners too, which is why we appreciate the commitment you make to your pet's health. That's why we won't compromise on our promise to supply you with the finest food, using only the highest quality ingredients.
Hill's™ Science Plan™ Canine Adult Oral Care Chicken
Hill's™ Science Plan™ Canine Adult Oral Care Chicken is clinically proven to reduce plaque and tartar. With antioxidants and advanced oral care technology.

Key Benefits
Clinically proven kibble technology to reduce plaque and tartar.
Daily dental protection to freshen breath.
With high quality proteins to support lean muscle.
Made with high quality ingredients for great taste. 100% guaranteed.
Hill's™ Science Plan™ Canine Adult Oral Care Chicken can often work out cheaper than you may think with a 5kg bag containing 19 days of feeding with an average monthly feeding cost of £41. 57, based on the average requirement of a adult dog with a target weight of 20kg and normal activity levels*
All Hills™ super premium pet products come with a 100% satisfaction guaranteed or your money back, simply return your purchase back to PET SUPERMARKET®**
* Based on the recommended manufacturer retail price, and recommended feeding guidelines from the manufacturer.
** Please note that you will be responsible for the cost of returning the product back to PET SUPERMARKET® and you will be eligible for a full refund of the price paid for the food. If you received free delivery with your order, and the refund brings your order total under the PET SUPERMARKET® free delivery threshold you will be charged at the prevailing rate as per our postage tariff on the day on which you placed your order.
Ingredients
Chicken (minimum Chicken 30%, Chicken and Turkey combined 50%): Ground maize, chicken and turkey meal, ground rice, cellulose powder, animal fat, digest, pea bran meal, dried whole egg, vegetable oil, potassium chloride, flaxseed, L-lysine hydrochloride, salt, dicalcium phosphate, taurine, L-tryptophan, vitamins and trace elements. Naturally preserved with mixed tocopherols, citric acid and rosemary extract.
Dosage
Hills™
Science Plan™ Canine Adult Oral Care Chicken
Body Weight kg

Dry grams

2. 5

55

-

75

5

90

-

125

10

155

-

210

20

260

-

355

30

350

-

485

40

435

-

600

50

515

-

710
Feeding The Correct Amount
It is important to remember however that these figures are guidelines only, and there are several factors to be taken into account when assessing your pet's nutritional requirements : -
Activity level
Temperament (stressed animals burn off more calories than relaxed ones)
Metabolism (every animal is an individual with his or her own speed of metabolism; this means that 2 dogs of the same age, breed and weight could have different daily calorie requirements)
In order to provide the correct portions when feeding your dog or cat, it is also helpful to assess your pet's appetite, visual appearance and stools. Whilst poo watching does not sound particularly pleasant, it is one of the best indicators of health. Increased frequency of passing faeces, production of large quantities of stools of loose motions are often frequent signs that an animal is receiving more food than he or she requires.
It is important to obtain an accurate weight for your cat or dog, and also to weigh out the food. Guessing on both accounts gives a large margin of error.
Changing Food Brands
For a successful diet change, we recommend following the feeding pattern below. The daily feeding amount should be split into two equal amounts and the proportions of new food increased over the first week as illustrated.

TOP TIPS: For those dogs who do not make eating a priority, here are some additional points:
- Reduce the number of tit-bits given during the introductory period
- If your dog has been used to eating wet food, moisten with warm water.
DAY 1-2

75% Original Diet
25% New Food
DAY 3-4

50% Original Diet
50% New Food
DAY 5-6

25% Original Diet
75% New Food
Customer reviews
Product reviews are filtered by language.
The following reviews are available in English.
Very good. Worth every penny. Our mini schnauzer is healthy and great teeth and coat. She loves these and the big size seems to make it more satisfying.

I have a greyhound and a whippet. Sighthounds, with their long muzzles, are prone to dental problems. As both hounds seemed to regard our cats' Science Plan as a grazing station, I decided to try them on this Oral Care recipe kibble. They love it, tho they do seem to regard it as a treat!

I finally settled on this food by chance. I was feeding it to one of my terriers to slow them down at dinner time as the biscuits are bigger than normal and they`re excellent for this. My other terrier has struggled for several years with being itchy- he`s a cross with a Bichon and suffers with food intolerences which are aggravated by his wirey, sheep-like coat. One day, I ran out of his food and fed him Oral Care. Within two days he`d stopped scratching.
These biscuits are excellent if you want to sl

My two British Shorthairs love these oral biscuits from Hills. They regard them as treats rather than food helping to keep their teeth in good order. At their annual MOT with the vet their mouths were in excellent condition and their teeth had miniscule plaque deposits.
For me, having the biscuits delivered in large bags saves a lot of effort. I save money with the lower prices and post free delivery. And Pet Supermarket always beats its delivery deadline by at least a week!!
Thank you.

My vet recommended that Charlie (girl cat)be fed the Oral Care food from Hills. Buying it here means that I don`t have to lug a big bag back on the bus and with the added bonus it`s cheaper too. Charlie has also requested that I buy several other products from Pet Supermarket and is very pleased with her purchases and sends her love to all.