Skip to content
Skip to navigation menu
Hill's Science Plan Canine Advanced Fitness Medium Chicken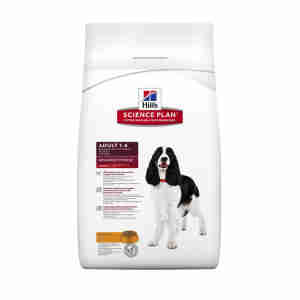 Rollover image to zoom
Product details
Hill's Science Plan Canine Advanced Fitness Medium Chicken is super easy for your dog to digest and helps to keep their muscles and organs healthy.
When to use it
Keeping your pup fit and healthy isn't only about taking them for a run in the park; what they eat is just as important. You should make sure that they get plenty of protein to keep their muscles strong.
Protein is key to your dog's good health. As well as their muscles, it helps keep skin, tendons, ligaments and cartilage working. A protein rich-diet will stop your pup putting on pounds and help them gain lean and supple muscles – which are essential for walkies!
If you're thinking of changing your pet's food, you might want to talk to your vet first. Many dogs with kidney problems or heart disorders can't have too much sodium in their diet. As well as yummy chicken flavour, you could also try Hill's Science Plan Advanced Fitness Canine Medium Beef.
Key benefits
super easy to digest
antioxidants fight 'free radicals' to keep your pup at their best
packed full of protein to help keep muscles strong
balanced levels of sodium and phosphorous help their organs
high-quality ingredients
yummy taste!
How it works
This complete food is packed full of antioxidants and proteins to keep your dog fit and strong. Antioxidants are pro at fighting 'free radicals' in your pup's body. Free radicals are harmful bacteria which attack your dog's healthy cells, leading to nasty illnesses.
Good digestion is key to your dog's health. If they can break down proteins easily, their body is able to absorb more nutrients. This mix uses lots of high-quality protein that's super easy to break down, so your dog gets goodness is every mouthful.
These proteins also help your pup to repair and build muscles, tendons and ligaments that can be damaged during play. They also give them lots of energy so they can run faster and walk for longer! And the best bit? Because it's made with only the best ingredients, it has a yummy taste that your pup will love to chow down.
Ingredients
Ground maize, chicken and turkey meal, soybean meal, animal fat, maize gluten meal, digest, flaxseed, vegetable oil, salt, potassium citrate, L-lysine hydrochloride, calcium carbonate, potassium chloride, taurine, L-tryptophan, vitamins and trace elements. Naturally preserved with mixed tocopherols, citric acid and rosemary extract.
Additional Information
Hills Science Plan Canine Adult Healthy Mobility Medium with Chicken
These ranges are a starting point only because animals' needs vary. Adjust the feeding amount to maintain optimal body weight.
| Weight kg | Dry grams per day |
| --- | --- |
| 2 | 45 - 60 |
| 2.5 | 50 - 70 |
| 3 | 60 - 80 |
| 4 | 75 - 100 |
| 5 | 85 - 120 |
| 7.5 | 115 - 160 |
| 10 | 145 - 200 |
| 15 | 195 - 270 |
| 20 | 245 - 335 |
| 25 | 285 - 395 |
| 30 | 330 - 455 |
| 35 | 370 - 510 |
| 40 | 410 - 565 |
| 45 | 445 - 615 |
| 50 | 480 - 665 |
| 60 + | 9 – 11 per kg |
Feeding The Correct Amount
It is important to remember however that these figures are guidelines only, and there are several factors to be taken into account when assessing your pet's nutritional requirements
Activity level
Temperament (stressed animals burn off more calories than relaxed ones)
Metabolism (every animal is an individual with his or her own speed of metabolism; this means that 2 dogs of the same age, breed and weight could have different daily calorie requirements)
In order to provide the correct portions when feeding your dog or cat, it is also helpful to assess your pet's appetite, visual appearance and stools. Whilst poo watching does not sound particularly pleasant, it is one of the best indicators of health. Increased frequency of passing faeces, production of large quantities of stools of loose motions are often frequent signs that an animal is receiving more food than he or she requires.
It is important to obtain an accurate weight for your cat or dog, and also to weigh out the food. Guessing on both accounts gives a large margin of error.
Changing Food Brands
For a successful diet change, we recommend following the feeding pattern below. The daily feeding amount should be split into two equal amounts and the proportions of new food increased over the first week as illustrated.

TOP TIPS: For those dogs who do not make eating a priority, here are some additional points:
- Reduce the number of tit-bits given during the introductory period
- If your dog has been used to eating wet food, moisten with warm water.
DAY 1-2
75% Original Diet
25% New Food
DAY 3-4
50% Original Diet
50% New Food
DAY 5-6
25% Original Diet
75% New Food
DAY 7
100% New Food
Customer reviews
Product reviews are filtered by language.
The following reviews are available in English.
Hills science plan

Easy to order, quick delivery. Just what you need

Perfect dry food

Moved to Science Plan on advice of groomer. Much better digestion and good coat.

Jess

I have always used Hills Science diet for my dogs-this firm delivers on price and speedy delivery

Hill's Science Plan Canine Advanced Fitness Medium Chicken

My dogs love this dry food, so I have to order it regularly. I always get it delivered and am very pleased with the efficiency of Medic animal and how fast they get it delivered. Excellent service.

Hills advanced and pet supermarket

Order and get great discounts from pet-supermarket deliver on time , and able to get the best food hills advanced for our dogs ! Highly recommend both hills and pet-supermarket