Skip to content
Skip to navigation menu
Hills Science Plan Canine Mature Adult 7+ Light Chicken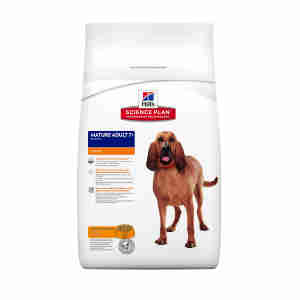 Rollover image to zoom
Product details
Hill's Science Plan Canine Mature Adult 7+ Light is a low fat, low calorie food that will keep your dog healthy and nourished whilst helping them to maintain a healthy body weight.
How it works
Hill's Science Plan Canine Mature Adult 7+ Light is designed to deliver your dog the full range of essential nutrients in a low calorie formula. This allows your dog to maintain a healthy body weight, whilst still getting the full range of nutrition. It has 48% less fat and 16% fewer calories than full fat lines.
The food is also designed to stimulate your dog's processing and digestion of food to encourage it to burn energy quicker. This helps it avoid turning excess energy into fat. This is particularly important in mature dogs, as their digestive systems can slow down. It is high in L-carnitine, an amino acid that encourages the body to burn fat for energy. The high fibre recipe is designed to reduce the need for your dog to eat between meals. Fibre is a complex ingredient that is processed and digested slowly, reducing your dog's hunger between feeds.
The food is also high in antioxidants. These target the body's free radicals, which damage cells and can cause cancer. Keeping your dog's diet high in antioxidants is a useful step in safeguarding their long-term health.
Key benefits
low fat and low calorie formula designed to help your dog maintain their ideal body weight
high levels of l-carnitine helps your dog to burn fats faster
high in slow burning fibre, reducing your dog's need to eat between meals
enriched with antioxidants which target free radicals
When to use it
Hill's Science Plan Canine Mature Adult 7+ Light is a complete dog food that should be used as your dog's regular meal. As dogs mature, their nutritional needs change and their metabolism can slow down, meaning they put on weight more quickly. This food helps to maintain your dog's general nutrition, whilst stimulating the processing of fats, to help them maintain an ideal body weight as they mature.
Ingredients
Composition:
Brewers´ rice, maize, chicken and turkey meal, maize gluten meal, dried whole egg, digest, animal fat, dried beet pulp, vegetable oil, minerals, flaxseed.
Analytical constituents:
Protein 22.6%, Fat content 14.3%, Crude fibre 1.3%, Omega-3 fatty acids 0.55%, Omega-6 fatty acids 3.73%, Crude ash 5.0%, Calcium 0.82%, Phosphorus 0.59%, Sodium 0.27%, Potassium 0.68%, Magnesium 0.07%; per kg: Vitamin E 600mg, Vitamin C 90mg, Beta-carotene 1.5mg.
Nutritional additives:
E672 (Vitamin A) 34,150IU, E671 (Vitamin D3) 1,434IU, E1 (Iron) 242mg, E2 (Iodine) 3.6mg, E4 (Copper) 30.7mg, E5 (Manganese) 10.7mg, E6 (Zinc) 206mg, E8 (Selenium) 0.5mg; with natural antioxidant. Protect from moisture.
Additional Information
Hills
Science Plan Canine Mature Adult 7+ Light with Chicken
These ranges are a starting point only because animals' needs vary. Adjust the feeding amount to maintain optimal body weight.
| Weight kg | Dry grams per day |
| --- | --- |
| 2.5 | 45 - 60 |
| 5 | 75 - 105 |
| 7.5 | 100 - 140 |
| 10 | 125 - 175 |
| 20 | 210 - 290 |
| 30 | 285 - 395 |
| 40 | 355 - 490 |
| 50 | 420 - 580 |
Feeding The Correct Amount
It is important to remember however that these figures are guidelines only, and there are several factors to be taken into account when assessing your pet's nutritional requirements
Activity level
Temperament (stressed animals burn off more calories than relaxed ones)
Metabolism (every animal is an individual with his or her own speed of metabolism; this means that 2 dogs of the same age, breed and weight could have different daily calorie requirements)
In order to provide the correct portions when feeding your dog or cat, it is also helpful to assess your pet's appetite, visual appearance and stools. Whilst poo watching does not sound particularly pleasant, it is one of the best indicators of health. Increased frequency of passing faeces, production of large quantities of stools of loose motions are often frequent signs that an animal is receiving more food than he or she requires.
It is important to obtain an accurate weight for your cat or dog, and also to weigh out the food. Guessing on both accounts gives a large margin of error.
Changing Food Brands
For a successful diet change, we recommend following the feeding pattern below. The daily feeding amount should be split into two equal amounts and the proportions of new food increased over the first week as illustrated.

TOP TIPS: For those dogs who do not make eating a priority, here are some additional points:
- Reduce the number of tit-bits given during the introductory period
- If your dog has been used to eating wet food, moisten with warm water.
DAY 1-2
75% Original Diet
25% New Food
DAY 3-4
50% Original Diet
50% New Food
DAY 5-6
25% Original Diet
75% New Food
DAY 7
100% New Food
Feeding Guide
Recommended quantity/day:
| Dog`s Weight (kg) | Dry food (grams) |
| --- | --- |
| 2.5 | 55 - 75 |
| 5 | 90 - 120 |
| 10 | 150 - 205 |
| 20 | 250 - 350 |
| 30 | 340 - 470 |
| 40 | 425 - 585 |
| 50 | 500 - 690 |
| 60+ | 10 - 12 per kg |
Always make sure that your dog has access to plenty of water.
Customer reviews
Product reviews are filtered by language.
The following reviews are available in English.
Great for my dogs

Have been feeding this food to my elderly dogs for a few years now. Both do well on it. It helps control my springers arthritis and as it is low fat my labrador has not had any further episodes of pancreatitis .

Superb

I have ordered on this site for many months and i am impressed with the quality of the products plus the company Well done.

Good VFM

A good company to do business with, very prompt delivery, which is free, and reasonably priced products.

Hill Science Plan dry dog food

Great value and service

We have been feeding our Dog this food for a few years and I would recommend it. This site is by far the best place to buy it. We used to buy it from our vet but the price is far more reasonable here. They deliver it for us Free of charge too. and Even txt me an hour before it arrives. Great Service Thank You