Skip to content
Skip to navigation menu
Hill's Science Plan Puppy Healthy Development Medium Breed Chicken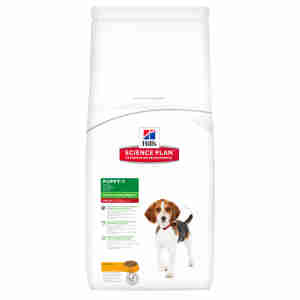 Rollover image to zoom
Product details
Hill's Science Plan healthy development puppy food with chicken is specially formulated to give your new arrival the extra nutrition they need to grow big and strong.

How it works
Puppies have different nutritional needs to adult dogs. Hill's Science Plan is designed to provide that extra boost. It contains antioxidants to help strengthen your puppy's immune system, which is important as they first start exploring the world around them. Added minerals and omega 3 fatty acids help bones to grow and strengthen while also supporting a healthy coat. The recipe uses high quality ingredients that are easy on your young dog's digestive system, reducing the chances of an upset tummy. The tasty chicken flavour will entice them to eat heartily at mealtimes too.
Key benefits
specially developed for medium-sized puppies less than a year old
contains added omega 3 and DHA from fish oil to support joint and bone health
antioxidants help to support a growing immune system
nutritionally balanced
easy to digest
When to use it
Your puppy can start eating this food once they're weaned from their mother's milk, at seven to eight weeks old. This food is especially designed for medium sized dog breeds, such as English bulldogs, Siberian huskies and springer spaniels, that stand at 18-22 inches to the shoulder once they're fully grown. Note that puppies eat a lot more than adult dogs and put weight on quickly during their first six months. They'll generally gain 5 to 10% of their body weight each day. If you're concerned about the speed at which your puppy is growing, it's best to speak with your vet. Once your puppy becomes an adult at one year old, you can move them onto standard dog food.
Ingredients
Savoury Chicken (minimum Chicken 30 %): Chicken, ground maize, pearl barley, soybean meal, pork liver, iron oxide, dicalcium phosphate, iodised salt, calcium carbonate, potassium chloride, vitamins and trace elements.
Dosage
Hills™ Puppy Cans
Cover and refrigerate unused portion.

For puppies/pregnant dogs: begin by feeding the suggested daily amount. Your pet may need less or more food to maintain proper weight. Adjust as needed. If you are unsure, ask your veterinarian.

For nursing dogs: keep food available at all times.

Puppy is available in canned and dry. Supplementation with other foods is unnecessary and may decrease the effectiveness of the food. When using with Puppy dry, decrease the amount of canned food to avoid overfeeding.

Weight of Dog
Kilograms
Growth less than 4 months
(Pregnancy weeks 7 - 9)
Growth 4 to 9 months
(Pregnancy weeks 5 - 6)
Growth 10 to 12 months
(Pregnancy weeks 1 - 4)
1
3/8 can
1/3 can
1/4 can
2
2/3 can
1/2 can
1/2 can
4
1 can
1 can
3/4 can
5
1 1/3 can
1 can
1 can
10
2 1/4 can
1 3/4 can
1 1/2 can
20
3 3/4 can
3 can
2 1/2 can
30
5 can
4 1/4 can
3 1/3 can
40
6 1/4 can
5 1/4 can
4 1/4 can
50
7 1/3 can
6 1/4 can
5 can
60
8 1/2 can
7 can
5 2/3 can
Feeding The Correct Amount
It is important to remember however that these figures are guidelines only, and there are several factors to be taken into account when assessing your pet's nutritional requirements : -
Activity level
Temperament (stressed animals burn off more calories than relaxed ones)
Metabolism (every animal is an individual with his or her own speed of metabolism; this means that 2 dogs of the same age, breed and weight could have different daily calorie requirements)
In order to provide the correct portions when feeding your dog or cat, it is also helpful to assess your pet's appetite, visual appearance and stools. Whilst poo watching does not sound particularly pleasant, it is one of the best indicators of health. Increased frequency of passing faeces, production of large quantities of stools of loose motions are often frequent signs that an animal is receiving more food than he or she requires.
It is important to obtain an accurate weight for your cat or dog, and also to weigh out the food. Guessing on both accounts gives a large margin of error.
Changing Food Brands
For a successful diet change, we recommend following the feeding pattern below. The daily feeding amount should be split into two equal amounts and the proportions of new food increased over the first week as illustrated.

TOP TIPS: For those dogs who do not make eating a priority, here are some additional points:
- Reduce the number of tit-bits given during the introductory period
- If your dog has been used to eating wet food, moisten with warm water.
DAY 1-2

75% Original Diet
25% New Food
DAY 3-4

50% Original Diet
50% New Food
DAY 5-6

25% Original Diet
75% New Food
Customer reviews
Product reviews are filtered by language.
The following reviews are available in English.
I have given Hills puppy food to my Westie since he as able to eat solid food and he has grown into an amazing 9 month dog full of energy, his coat is shiny and lovely and white. I would certainly recommend Hills to my family and friends.

Amazing!!! the price is amazing too on the website, much cheaper than pets at home! my puppy is now 5months,a black Labrador, and his coat shines as never before, i always get compliments of how gorgeous he looks. of course i really give him only the guided amount of dry food, nothing else, (except apples which he loves, and carrots) :)

Having enjoyed puppy Large Breed for his first year, H is now moving up a level. A healthy coat, good teeth and a happy dog are testament to the mix, which I would award 5.

As always the food is well packaged, but when ordering on-line from Petsupermarket be aware that the delivery can and usually does, take 10 days to arrive. 5 working days for despatch and another 5 for YODEL to deliver it to the door. Of course you could pay to have it arrive more quickly!

I have 2x11 week old labrador puppies who love and are thriving on this food. Hill`s was the food my puppies were fed on when we got them a week ago and was advised to keep them on it, which I am more than happy to do. I would definitely recommend buying from Pet Supermarket I couldn`t believe how fast the delivery was. I ordered at 3:30pm Friday and received AM Monday, I`m amazed! I will certainly buy this and other items from you again, very soon. A big thankyou from a very happy customer and 2 happy pup

Swapped our working cocker spaniel`s diet to this as he was putting on weight with his previous dry food. He soon lost weight and enjoys the food.