Skip to content
Skip to navigation menu
IAMS Cat Hairball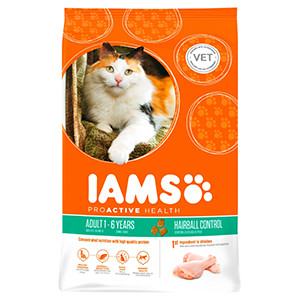 Product details
Iams™ Cat Food
Like you, we adore dogs and cats, and have a very particular passion for their nutrition. We know that good nutrition can help make a difference to your pets' health and happiness.
At Iams we know how much your cat means to you. The diet of your cat is key to its happiness and well being. The food you feed your cat can make a massive difference to their life affecting their weight, skin, quality of coat, lifespan and even the amount of hairballs produced.
Iams Feline Cat Food Adult Hairball Control Rich Chicken
Daily nutrition for Adult cats, particularly those with long hair, who have problems with hairballs.
Product Information
Iams Hairball helps reduce the formation of hairballs. It contains natural fibres which help carry hair she has ingested gently through the digestive tract.
Key Benefits
Natural cellulose to help reduce hairball formation.
Crunchy kibbles to help reduce tartar build-up, keep teeth clean and gums healthy
Specially formulated to maintain urinary tract health.
Essential nutrients to support heart and body health.
Iams™ super premium cat food can often work out cheaper then feeding popular wet foods with a 10kg bag containing 182 days of feeding with an average daily feeding cost from 24p, less than the cost of one pouch of cat food based on the average requirement of a 4kg Adult Cat*
*Based on the recommended manufacturer retail price, and recommended feeding guidelines from the manufacturer.
Expert Advice
For any nutritional or behavioural advice you may have on Iams please call the award winning Iams Care Line on free phone 0808 100 70 30 for further information.
Ingredients
Ingredients
Dried Chicken and Turkey (40%), maize grits, maize, animal fat, wheat, dried beet pulp (6.1%), powdered cellulose, dried whole egg, chicken digest, fructooligosaccharide (0.69%), potassium chloride, brewer's dried yeast, fish oil (0.32%).
Analysis
Protein 33%, Fat content 15%, moisture 8%, crude ash 7.2%, crude fibres 5%, Calcium 1.05%, Phosphorus 0.95%, Magnesium 0.095%, Vitamin A 12,000 IU/kg, Vitamin D3 900 IU/kg, Vitamin E (ά-tocopherol) 140mg/kg. Trace elements: Copper as Cupric Sulphate, pentahydrate:9 mg/kg, Zinc as Zinc Oxide:160 mg/kg, Manganese as Manganous Sulphate, monohydrate:43 mg/kg, Iodine as Potassium Iodide:1 mg/kg, Cobalt as Basic Cobaltous Carbonate, monohydrate:0.4 mg/kg.
Dosage
Size of Cat Amount per day
Kg Grams
2kg 30 - 40g
3kg 40 - 60g
4kg 55 - 80g
5kg 70 - 100g
6kg 85 - 120g
7kg 100 - 140g

Customer reviews
Product reviews are filtered by language.
The following reviews are available in English.
hairballs sorted

i have a semi-feral Norwegian Forest with a coat worthy of the arctic. he really needs to be groomed every day but if i try there's danger of losing an arm. in the past i've given him laxative paste most days and that seems to work but the vet says there are studies that show this can cause thickening of the gut wall. in the wild there would be no problem as all that sinew and bone from prey acts as roughage. I ams hairball seems to be a good compromise. it certainly keeps his stools softer and i only need to use the paste weekly.

My two cats aaged 9 and 10 are both fed on this food, it is great nutrition, and good value for money.Both have beautiful glossy coats and are full of energy, you would think thay are both still kittens.

I have four kittens and they are looking wonderful by being fed Iams. The goodness is amazing in this product my kittens are active and healthy kittens and their coats are in excellent condition. I recommend Iams Kitten without question.

I am owned by a big British shorthair. He was suffering from constant hairballs, it was so distressing to watch and hear him. I changed to Iams Hairball and noticed a change more or less straight away! I continued to feed him on the food until a couple of months ago. I was trying to save the pennies and put him back on his old food (gradually). Within a week he was having the same problems as before, I felt so guilty. I have now just ordered a big supply from Pet Supermarket, I won`t ever change his food ag

I live in a country home, where I am able to have a Multicat household, and have eight (yes, Eight) cats of varying ages. Since feeding Iams exclusively, about 16 years ago, I have never had to have my cats teeth cleaned, and all my cats have been happy eating Iams, unlike other dried foods we tried. By buying 15kg bags the cost per cat is low - I buy 3 bags every 3 months - and my cats just love the taste. One of my cats went wandering and was picked up and taken to a vets. He estimated the cat to be aroun