Skip to content
Skip to navigation menu
IAMS for Vitality Adult Large Breed Dog Food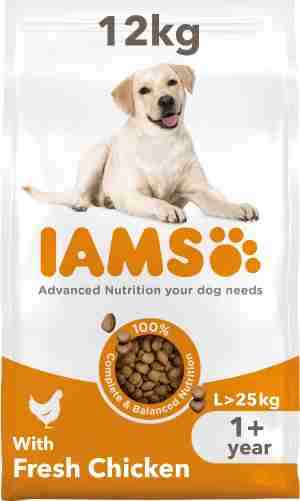 Rollover image to zoom
Product details
Feed IAMS Dog Adult Large Breed with chicken to your big dog to take care of their unique health needs.
Because of the size of your dog's body, their joints are naturally under more strain than a lighter dog's would be. Later in their life, this can lead to illnesses like arthritis, so it's important to do everything you can to protect your dog's joints while they're young. A diet low in fat will keep your dog slim and mean that their joints will have less weight to carry, and a substance called glucosamine in their food will help joints stay strong. Foods like this one, specially designed for large dogs, are the easiest way to make sure your dog gets everything they need to avoid illness as they get older.
If you do notice that your dog seems to be moving stiffly, or you think they're in any pain, it's a good idea to take them to the vet as soon as possible.
Key benefits
added glucosamine helps your dog's joints stay healthy
low fat content makes is easier for your dog to stay at their perfect weight
lots of fibre is great for healthy (slow) digestion
added omega-3 and omega-6 fatty acids help keep your dog's heart and skin in tip-top condition.
Glucosamine is a compound which is found naturally in cartilage, the soft tissue that connects your dog's joints. Its job is to mend your dog's joints when they're damaged and keep them strong and healthy. This food contains added glucosamine to give extra support to large dogs with more weight to carry, and help them stay happy and active.
Because more weight equals more pressure on your dog's joints, it's important to keep bigger dogs at a healthy weight. To make this easier, this food is made to a low fat recipe with lots of fibre to keep your dog feeling full. The high-fibre content also keeps your dog's digestion working slowly and steadily, making poorly tummies and smelly, messy poop-a-scooping less likely.
Omega-3 and omega-6 fatty acids are really important in your dog's diet to keep their heart and skin super healthy. As well as making your dog less likely to develop heart conditions, this helps their skin act as a natural barrier against illness and infection.
Ingredients
Composition:

Dried Chicken And Turkey (23%), Maize, Wheat, Sorghum, Animal Fat, Barley, Dried Beet Pulp (2.8%), Hydrolysed Animal Proteins, Dried Whole Egg, Brewer'S Dried Yeast, Potassium Chloride, Calcium Carbonate, Sodium Chloride, Sodium Hexametaphosphate, Fructooligosaccharides (0.15%), Linseed, Glucosamine.
Additional Information
Feeding guide:
| Weight (kg) | Weight maintenance (g/day) |
| --- | --- |
| 25 | 240g - 270g |
| 35 | 300g - 335g |
| 45 | 355g - 395g |
| 55 | 410g - 455g |
| 70 | 480g - 535g |
| 80 | 525g - 585g |
| 90 | 570g - 630g |
Feeding Guide
Feeding Guide:
| | |
| --- | --- |
| Weight of dog | Weight maintenance (grams/day) |
| 25kg | 240g - 270g |
| 35kg | 300g - 335g |
| 45kg | 355g - 395g |
| 55kg | 410g - 455g |
| 70kg | 480g - 535g |
| 80kg | 525g - 585g |
| 90kg | 570g - 630g |

These guideline amounts are a starting point and your dog may need more food depending upon age, activity and temperament. In order to reach optimal body condition, you may need to adjust food intake. This represents the total recommended volume of food per day. You should divide the total recommended feeding amount by the number of times you feed your dog per day to get the actual portion size per feeding. Large breed puppies, reaching 25 - 40 kg at maturity, should transition to Iams ProActive Health Large Breed formula at 12 months of age. Giant breed puppies, over 40 kg at maturity, should transition to Iams ProActive Health Large Breed formula at 24 months of age. Remember to have clean, fresh water available for your dog at all times. When introducing Iams Dog Food, gradually mix it with your dog's current food over the course of 4 days.
Customer reviews
Product reviews are filtered by language.
The following reviews are available in English.
Great Food

We have been using Iams for 12 years for both our Rhodesian Ridgebacks, lovely coats good health and bright eyes! People are always complimenting us. They love the food and the price is amazing, as is the service!

iams adult dog food

My two dogs love iams adult dog food and I think it's a great food for the price

Excellent product

Our dog just loves this product. It is good quality and it is an affordable price.

Excellent

My 2 yr old Labrador loves this. She has so many compliments regarding her shiny coat. Always purchase from here as it's so much cheaper and brilliant service.

Iams large dog

My old lady gets Iams senior and my 4yr old boy gets Iams large dog, they both love it and are happy healthy pooches. Service from Pet Supermarket is excellent!