Skip to content
Skip to navigation menu
IAMS for Vitality Large Breed Puppy Food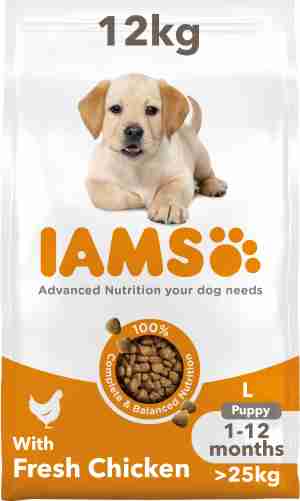 Rollover image to zoom
Product details
Give your large breed puppy the best start in life with this balanced IAMS Puppy & Junior dry food.
What it's for
This IAMS Puppy & Junior food is specially designed for large breed puppies from 25 to 40+ kilograms. It's packed with fibre to keep your young dog's digestive system ticking over nicely, preventing upset tummies and little accidents.
You can use it from the age of three weeks up until your puppy is 24 months old. If you're switching from another brand or weaning your puppy off milk, remember to introduce this food slowly so they get used to it. Always make sure your dog has plenty of fresh water available too.
Key benefits
delicious dry food designed specially for large and giant breed puppies
proteins improve the condition of growing muscles
calcium supports growing joint cartilage
omega-3 aids cognitive development
omega-6 nourishes skin and coat
antioxidants support the immune system
How it works
Young puppies need a little extra TLC to help them grow and develop properly. A food like this one takes care of their mind and body while they're busy running and playing. The recipe is formulated to meet the specific needs of large breed puppies, as they tend to grow at a fast rate.
It's full of protein for strong muscles, calcium to protect joints and antioxidants to bolster the immune system as your puppy explores the world for the first time. Fatty acids like omega-3 are included to support cognitive development as your puppy learns the ropes, while omega-6 gives them a shiny, soft coat and keeps their skin supple. Prebiotics and beet pulp work towards smooth digestion while also helping to firm their stools.
Ingredients
Iams Puppy & Junior Large Breed Dog Food Rich in Chicken


Ingredients
Maize, dried Chicken and Turkey (>24%), wheat, animal fat, rice, dried beet pulp, chicken digest, fish oil, dried whole egg, brewer's dried yeast, potassium chloride, sodium chloride, fructooligosaccharides (0.15%), glucosamine hydrochloride
Analysis and Additives
Protein 26%, Fat content 14%, crude ash 5.6%, crude fibres 2.8%, moisture 8%, Calcium 0.8%, Phosphorus 0.65%, DHA 0.1% Vitamin A 14,000 IU/kg, Vitamin D3 900 IU/kg, Vitamin E (ά-tocopherol) 140mg/kg. Additives:
Vitamins: Vitamin A:14000 IU/kg, Vitamin D3:900 IU/kg, Vitamin E (α-tocopherol):140
mg/kg, Trace elements: Iron as Ferrous Sulphate, heptahydrate:231 mg/kg, Zinc as Zinc
Oxide:192 mg/kg, Manganese as Manganous Oxide:26 mg/kg, Manganese as Manganous
Sulphate, monohydrate:19 mg/kg, Copper as Cupric Sulphate, pentahydrate:14 mg/kg, Iodine as Potassium Iodide:3 mg/kg, Cobalt as Basic Cobaltous Carbonate, monohydrate:0.5 mg/kg.
Customer reviews
Product reviews are filtered by language.
The following reviews are available in English.
Good price

Good product. Priced well with free delivery

First time customer

I recently placed an order with Pet Supermarket for the first time. The cost of the goods was a lot cheaper than the pet store I normally use for the same brand of food. The delivery service was much appreciated in that I did not have to spend time and effort to go to the pet store and delivery was quick and efficient. I will continue to use this service.

Always use

I have an 18 month Black Labrador. Her breeder fed her Iams. So I continued. I had always fed Iams to my other dogs as well. Her coat is always shining and silky. People stop and comment on it. I do vary the food by adding tasty bits I.e. Extra veg, natural yogurt and vegetables to make her meals a bit more exciting.

We have a lab x rotti bitch whom we mated earlier this year with a black lab. We fed her Iams for the last two weeks of her pregnancy & she gave birth to 15 pups! We lost the last one. They weighed between 11 & 14 oz and all are doing extremely well. At 7 weeks of age people thought our pups were at least 12 weeks. Now sold on those that have changed their diets to cheaper food have noticed that their coats are dull etc. can't rate it enough.

The company Iams does majorly cruel animal testing (on dogs) for (apparent) research into the food they sell. Some die, all suffer. No respect here.