Skip to content
Skip to navigation menu
Add to an existing Repeat Order
Add to an existing Repeat Order
Licensed item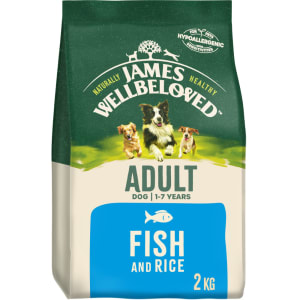 James Wellbeloved Dog Adult Fish & Rice
This is a licensed item so for regulatory reasons and to ensure we are providing the best product for the health of your pet, we need to ask you to confirm a few details.
Please confirm the type of animal you will be giving this licensed product to:
I am aware of the relevant safety precautions relating to the licensed products.
I will read the packaging and product literature before using any licensed products, and will use all licensed products according to the manufacturer's datasheet
I am not buying for resale and I am happy to be contacted if required
I confirm that the animal the licensed products will be given to is in general good health
I confirm that the animal the licensed products will be given to is NOT pregnant or lactating
Add to an existing Repeat Order
Licensed item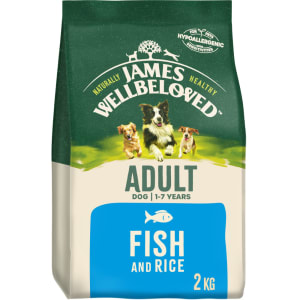 James Wellbeloved Dog Adult Fish & Rice
This is a licensed item so for regulatory reasons and to ensure we are providing the best product for the health of your pet, please read and confirm the details below:
By purchasing this product, you confirm your pet has been examined by a vet who has recommended the use of this food on the basis of examination and diagnosis.
You understand it is recommended while your pet is being fed this product, you seek veterinary advice at least every 12 months regarding the usage of this food and the on-going care of your pet.
Should your pet's condition deteriorate in any way while using this product, seek immediate veterinary advice.
Add to an existing Repeat Order
You are adding: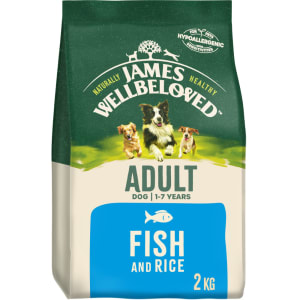 James Wellbeloved Dog Adult Fish & Rice
To the following repeat order:
Next order due on:


Delivered every
text.account.new.upcoming.orders.payment.brand.
Add to an existing Repeat Order
Thank you, we have updated your order. Your order is due on
You're setting up the following repeat order: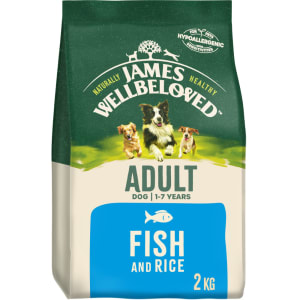 James Wellbeloved Dog Adult Fish & Rice
Product details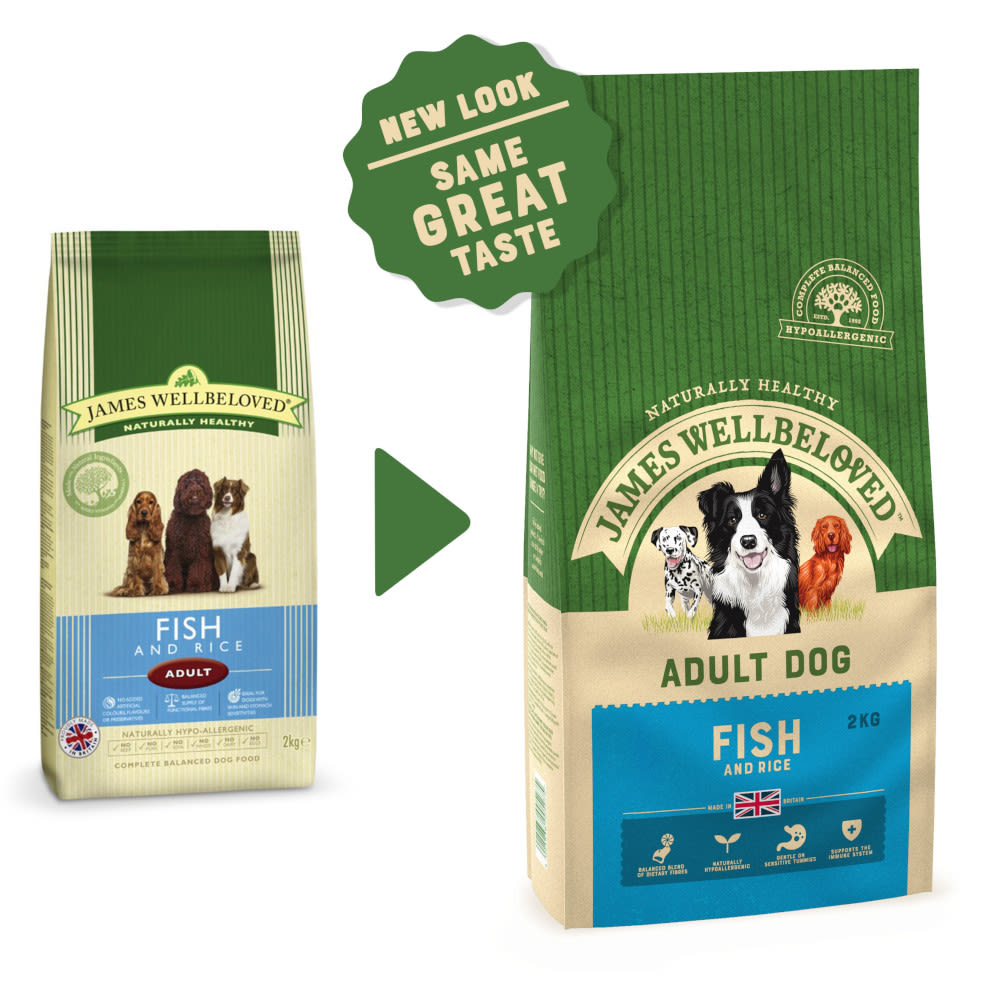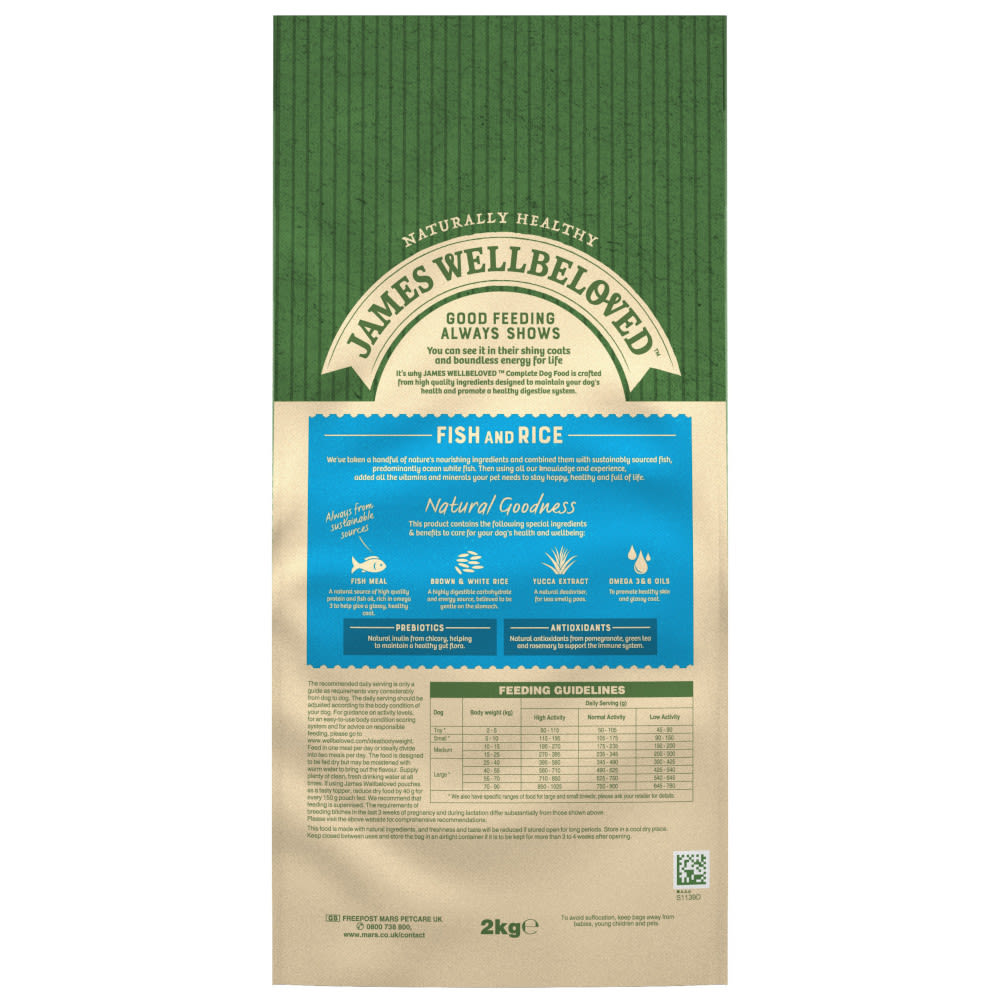 James Wellbeloved Dog Adult Fish & Rice is a complete hypo allergenic dry food.
With selected protein source fish and selected carbohydrate sources of rice and barley, it is a dietetic food, excellent for the reduction of ingredient and nutrient intolerances. It's suggested that the food be tried for a period of 3 to 8 weeks. If the signs of the food intolerance disappear, continue feeding indefinitely.
Key Benefits:
Made with natural ingredients with added vitamins and minerals.
Hypoallergenic - ideal for dogs with skin or digestive sensitivities.
Made with sustainably sourced, predominantly ocean-white fish meal.
Single meat protein, fish, fish oil and fish stock
Promotes a healthy and glossy coat, blend of omega 3 and omega 6 fatty acids
Helps to reduce stool odour with added yucca extract
Added prebiotic natural chicory inulin helps to maintain healthy gut flora
Support for the heart, joints and immune system, JW+ - taurine for heart and chondroitin, glucosamine & herbs for joints
Higher levels of vitamins c and e for immune system
Smaller kibble for smaller mouths
Ingredients
Rice, ocean white fish meal, barley, whole linseed, vegetable gravy, olive oil, peas, fish oil, alfalfa, sodium chloride, natural seaweed, chicory pulp, calcium carbonate, chicory extract, lysine, DL-methionine, yucca extract, threonine, JWB special ingredients.
Contains: Min 23% fish, min 28% rice, min 15% barley.
Typical analysis: Protein 21%, oil 10%, fibre 4%, ash 8%, omega-3 fatty acids 2. 1%, omega-6 fatty acids 1. 4%.
Additional Information
Breed Type
Adult body weight
Food per day
Toy e.g.. Yorkshire Terrier
2
55
4
95
Small e.g.. Westie
6
125
8
155
10
180
Medium e.g.. Border Collie
12
210
14
235
16
260
18
280
20
300
22
325
Large e.g.. Labrador Retriever
24
345
28
390
32
430
36
485
40
500
Giant e.g.. Saint Bernard
45
550
50
590
55
635
60
675
70
750
80
830
90
905
Feeding The Correct Amount
It is important to remember however that these figures are guidelines only, and there are several factors to be taken into account when assessing your pet's nutritional requirements : -
Activity level
Temperament (stressed animals burn off more calories than relaxed ones)
Metabolism (every animal is an individual with his or her own speed of metabolism; this means that 2 dogs of the same age, breed and weight could have different daily calorie requirements)
In order to provide the correct portions when feeding your dog or cat, it is also helpful to assess your pet's appetite, visual appearance and stools. Whilst poo watching does not sound particularly pleasant, it is one of the best indicators of health. Increased frequency of passing faeces, production of large quantities of stools of loose motions are often frequent signs that an animal is receiving more food than he or she requires.
It is important to obtain an accurate weight for your cat or dog, and also to weigh out the food. Guessing on both accounts gives a large margin of error.
Changing Food Brands
For a successful diet change, we recommend following the feeding pattern below. The daily feeding amount should be split into two equal amounts and the proportions of new food increased over the first week as illustrated.

TOP TIPS: For those dogs who do not make eating a priority, here are some additional points:
- Reduce the number of tit-bits given during the introductory period
- If your dog has been used to eating wet food, moisten with warm water.
DAY 1-2
75% Original Diet
25% New Food
DAY 3-4
50% Original Diet
50% New Food
DAY 5-6
25% Original Diet
75% New Food
DAY 7
100% New Food
Customer reviews
Product reviews are filtered by language.
The following reviews are available in English.
James Wellbeloved Dog Adult Fish & Rice

I changed my dogs food to this ….to see if his pee stops burning my lawn ..my old dog was on this and his pee did not burn the lawn

Quality Service

Product and Service second to none

James Wellbeloved Adult

Excellent for all dogs but especially if they have a sensitive stomach or allergies Tried several different brands but found this one didn't give my dog diarrhoea Nice sized kibble great for his coat as well

Fish and Rice

We like the size of each biscuit and Henry is enjoying the food as part of a diet as he was a little overweight. The balance of all the nutrition in the food is just right.

James Wellbeloved Dog Adult Ocean White Fish & Rice

All flavours of James Wellbeloved dog food are excellent, and are instantly devoured by my Labrador, however this is her favourite.