Skip to content
Skip to navigation menu
Add to an existing Repeat Order
Add to an existing Repeat Order
Licensed item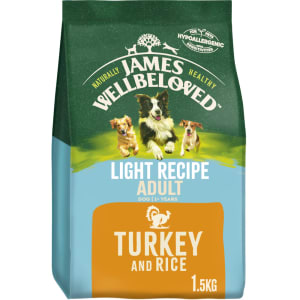 James Wellbeloved Dog Adult Turkey & Rice Light
This is a licensed item so for regulatory reasons and to ensure we are providing the best product for the health of your pet, we need to ask you to confirm a few details.
Please confirm the type of animal you will be giving this licensed product to:
I am aware of the relevant safety precautions relating to the licensed products.
I will read the packaging and product literature before using any licensed products, and will use all licensed products according to the manufacturer's datasheet
I am not buying for resale and I am happy to be contacted if required
I confirm that the animal the licensed products will be given to is in general good health
I confirm that the animal the licensed products will be given to is NOT pregnant or lactating
Add to an existing Repeat Order
Licensed item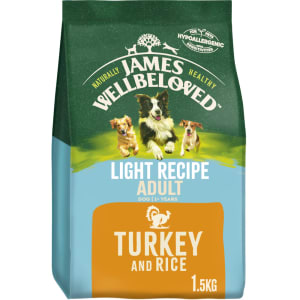 James Wellbeloved Dog Adult Turkey & Rice Light
This is a licensed item so for regulatory reasons and to ensure we are providing the best product for the health of your pet, please read and confirm the details below:
By purchasing this product, you confirm your pet has been examined by a vet who has recommended the use of this food on the basis of examination and diagnosis.
You understand it is recommended while your pet is being fed this product, you seek veterinary advice at least every 12 months regarding the usage of this food and the on-going care of your pet.
Should your pet's condition deteriorate in any way while using this product, seek immediate veterinary advice.
Add to an existing Repeat Order
You are adding: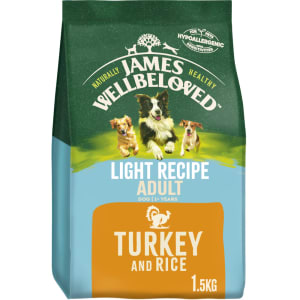 James Wellbeloved Dog Adult Turkey & Rice Light
To the following repeat order:
Next order due on:


Delivered every
text.account.new.upcoming.orders.payment.brand.
Add to an existing Repeat Order
Thank you, we have updated your order. Your order is due on
You're setting up the following repeat order: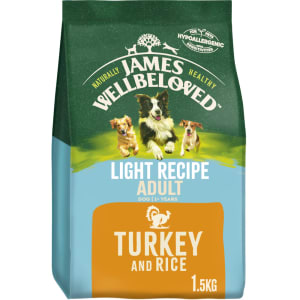 James Wellbeloved Dog Adult Turkey & Rice Light
Product details
James Wellbeloved Dog Adult Turkey & Rice Light is a hypoallergenic complete dry food.
How it works
James Wellbeloved Dog Adult Turkey and Rice Light is a complete dry food for dogs with intolerances. Made from completely natural ingredients, it helps to cut out the common culprits of food allergies.
This dry food uses quality turkey and turkey fat as its main source of protein. Using a single source of meat protein helps limit your dog's contact with meats that could cause an allergic reaction. Protein is essential to help build lean muscle and lose fat, so this mix is perfect for managing your dogs weight.
The fibre in James Wellbeloved Dog Adult Turkey and Rice Light comes from natural sources ' rice and oats ' to give your pet an energy boost, promote healthy digestion and improve stool quality.
Added yucca extract reduces stool odour, while a blend of omega 3 and omega 6 fatty acids keeps coats glossy. Your dog's natural defences are supported by added cranberry and green tea extracts, which are packed full of antioxidants for fighting free radicals.
Key benefits
complete hypoallergenic dog food
made with all natural ingredients
quality turkey is the main protein source
fibre comes from rice and oats to improve digestion
omega 3 and omega 6 fatty acids keep their coat glossy
cranberry and green tea extracts are a good source of antioxidants.
When to use it
If your dog has an intolerance to their food, it can make them uncomfortable and unhappy. It's easy to spot an allergy: your dog might vomit, have diarrhoea or develop a rash and scratch more than usual. If you think your pet is having an allergic reaction, stop feeding them their regular mix and seek advice from your vet.
This dry mix can be used to replace your dog's regular food for life. Try feeding them James Wellbeloved for a trial period of 3 to 8 weeks.
Ingredients
Composition: rice, turkey meal, oats, sugar beet pulp, whole linseed, pea protein, turkey gravy, alfalfa meal, turkey fat, natural seaweed, sodium chloride, omega oil supplement, potassium chloride, parsley, nettle, chicory extract, calcium carbonate, glucosamine, yucca extract, chondroitin
Minimum levels: turkey (26%), rice (26%), oats (19%), linseed (4%), turkey gravy (3%), alfalfa (2%), seaweed (0.7%), yucca extract (0.02%), chicory extract (0.12%), glucosamine (0.0275%), chondroitin (0.0225%), parsley (0.1%), nettle (0.1%)
Additives per kg: antioxidants: E306/Natural antioxidant, 174mg, Vitamins: E672/Vitamin A, 17,400 iu, E671/Vitamin D3, 2,610 iu, Trace elements: E1/iron, 47mg, E2/iodine, 2.3mg, E4/copper, 5.8mg, E5/manganese, 29mg, E6/zinc, 117mg, E8/selenium, 0.2mg
Analytical Constituents: protein 26%, crude fibres 4%, fat content 10%, crude ash 7.4%, Vitamin E 175mg/kg, omega-3 fatty acids 1.2%, omega-6 fatty acids 2.6%. Energy Value (ME) 350kcals/100g
Additional Information
Light
| Body Weight (kg) | Daily Serving (g) (inactive dog) | Daily Serving (g) (active dog) | Predicted weight loss per week |
| --- | --- | --- | --- |
| 2 | 30 | 35 | 40g |
| 5 | 55 | 70 | 100g |
| 10 | 90 | 115 | 200g |
| 20 | 155 | 190 | 0.4kg |
| 30 | 210 | 260 | 0.6kg |
| 40 | 265 | 310 | 0.8kg |
| 50 | 305 | 370 | 1.0kg |
| 60 | 350 | 425 | 1.2kg |
| 70 | 390 | 475 | 1.4kg |
| 90 | 470 | 570 | 1.8kg |
The recommended daily serving is only a guide as requirements vary considerably from dog to dog. Feed in one meal per day or ideally divide into two meals, using 1/3rd in morning and 2/3 in evening. Feed dry with water aside or moisten with warm water to bring out the flavour. Store in cool dry place; keep closed between uses. Supply plenty of clean, fresh drinking water at all times. We recommend that feeding be supervised.
Customer reviews
Product reviews are filtered by language.
The following reviews are available in English.
Excellent product & service from medicanimal .com

Our Weimereaner Megan has been on James well beloved products for the past 11 years since we got her from " rescue" As she has aged we have changed to the appropriate product. Now that she has reached the glorious age of 13 not bad for a pedigree we had been advised she needed to lose a little weight as she is not as active as she used to be , we changed to the light version of her dry food three months ago , she has already reached her target weight , no fuss no bother no stress, she hasn't even noticed Wiemereners are known to have very tricky digestion, she does not tolerate any red meat , however Turkey suits her perfectly, we have never had any issues. She is in excellent health.

James Wellbeloved light

My Labrador has been on James Wellbelover since we had her 10 years ago and has done very well even on the light menu. We rescued a 6 year old lab/collie with no history and put them onto the same food. After a month, his fur was silky and shinning, he had bounds of energy and very content, so different from the dog we rehomed. Both dogs are in excellent health thanks to James Wellbeloved.

Great food for weight control

My chocolate Labrador has a tendency to weight gain and also suffers from hip problems and arthritis. James wellbeloved food is the only diet I have found to reliably control her weight whilst still keeping her full. She now is perfect weight and has a lovely shiny coat. I will keep her on this food as I believe it to be the best diet I can get her.

James Wellbeloved - Love it

I have a mixed breed who was a little overweight. The vet recommended JWB approx 7 years ago we have been buying it ever since. Buddy loves it. I also get the wet food pouches which he gets so excited about every night :-Pet Supermarket are excellent always give great service. :-

Adult Turkey and Rice Light

My Staffie Kai has had this food ever since she was neutered when she was three years old as the vet said she would be prone to putting on weight. Very pleased with this food - She is seven now and still loves it and has kept her slim figure!! Also the order usually doesn't take long to arrive.