Skip to content
Skip to navigation menu
James Wellbeloved Dog Junior Duck & Rice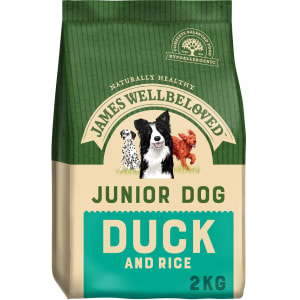 Product details
James Wellbeloved natural dog food, puppy food and dog treats
Naturally healthy and hypoallergenic - James Wellbeloved complete dog foods are specially selected with wholesome ingredients which make them naturally healthy, completely satisfying and very tasty for your dog.
With no beef or pork, no wheat or wheat gluten, no dairy products or egg our complete dog food is hypoallergenic and free from many of the ingredients which are renowned for causing food intolerances.
Hypo-allergenic means a reduced risk of food allergy or intolerance.
It contains no added artificial colours, flavours or preservatives. James Wellbeloved complete dog food has been developed to be easy on your dog's digestive tract and soothe itchy coats. With your dog's wellbeing in mind, our recipes contain a single source of meat protein - either turkey, duck, lamb or ocean white fish of the finest quality. The carbohydrate content of our food comes from rice, oats and barley. They are not only a valuable energy source but delicate on your dog's digestion too.
We always give you a full list of ingredients on all our products, so you know exactly what you are feeding your pet. Compare the ingredients list of James Wellbeloved complete dog food with other dog foods and you will see why your dog will love the taste of James Wellbeloved.
James Wellbeloved Duck & Rice Dog Food
Complete balanced dry dog food
Wholesome, natural hypo-allergenic dog food. Helps loose bowels and calms itchy, irritated skin and coat.
The benefits for your dog
We use lean, easily digestible duck because it is a tasty, novel source of protein for dogs.  James Wellbeloved Duck & Rice Kibble is a pure, natural, complete dry food which uses organic oats as a source of fibre. Seaweed, alfalfa and yucca are also added for the health benefits they bring.
Great Value Super Premium Pet Food
James Wellbeloved Duck & Rice Dog Food can often work out cheaper then you may think with a 15kg bag containing 50 days of feeding with an average monthly feeding cost of £27. 59, based on the average requirement of an adult dog with normal activity levels weighing 20kg*
All Royal Canin pet foods come with a 100% satisfaction guaranteed or your money back, simply return your purchase back to PET SUPERMARKET®**
*Based on the recommended manufacturer retail price, and recommended feeding guidelines from the manufacturer for 30 days feeding.
**Please note that you will be responsible for the cost of returning the product back to PET SUPERMARKET® and you will be eligible for a full refund of the price paid for the food. If you received free delivery with your order, and the refund brings your order total under the PET SUPERMARKET® free delivery threshold you will be charged at the prevailing rate as per our postage tariff on the day on which you placed your order.
Ingredients
Ingredients and analysis
Ingredients:  Rice, duck meat meal, organic oats, whole linseed, duck gravy, duck fat, alfalfa, sodium chloride, natural seaweed, chicory extract, calcium carbonate, lysine, D, L-methione, yucca extract,  threonine, JWB special ingredients.
Contains:  Minimum 27% duck, min 27% rice, min 7. 5% organic oats.
Typical analysis:  Protein 24%, oil 10%, fibre 3. 5%, ash 7%, omega-3 fatty acids 1. 0%, omega-6 fatty acids 2. 1%.
Additional Information
James Wellbeloved Junior Dog Duck & Rice is ideal maintenance for adolescent dogs with an adult weight over 10kg from 6 months of age. It is a complete dry food with the bonus that it is hypo-allergenic. With protein sourced from duck and selected carbohydrate sources of rice and oats, it is a dietetic food, excellent for the reduction of ingredient and nutrient intolerances. We suggest that the food be tried for a period of 3 to 8 weeks. If the signs of the food intolerance disappear, continue feeding indefinitely.

Key Benefits:
Made with natural ingredients with added vitamins and minerals
Hypoallergenic - ideal for dogs with skin or digestive sensitivities
All duck protein, with duck fat and duck gravy
Exclude the most common causes of adverse food reaction
No added artificial colours, flavours or preservatives
A blend of omega 3 and omega 6 fatty acids help maintain a healthy, glossy coat
Added yucca extract help to reduce stool odour
The added prebiotic of natural chicory inulin encourages beneficial bacteria in the gut
Customer reviews
Product reviews are filtered by language.
The following reviews are available in English.
My German Shepherd has always been a faddy eater. Despite having always bought good quality food, she has been prone to allergies and rashes and each month, refused to eat the food probably because she was bored of it. Four months ago, I tried James Beloved for the first time. I was surprised to see that she ate the food immediately. Within weeks, she had stopped scratching and the rashes had started to clear up. She waits to be fed now and has not got bored of this product. Having seen her health improv