Skip to content
Skip to navigation menu
James Wellbeloved Ferret Complete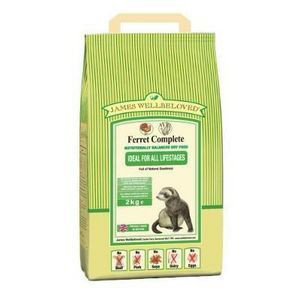 Product details
Naturally healthy complete dry ferret diet

Ferret Complete is the first British dry ferret food formulated specifically for ferrets.
Ferrets have higher energy needs and a shorter digestive tract than cats or dogs and being carnivores their primary protein source must be meat. They need a high energy diet with a high protein and fat content which Ferret Complete provides. The main protein source in Ferret Complete is the finest quality turkey meat meal, to give a higher protein level of 36%.
As ferrets' principal source of energy, fat is a vital ingredient in their nutrition. Ferret Complete has a high fat level of 19%, derived mainly from turkey fat. We also include whole ground linseed for soft, shiny coats.
Many owners used to feed day-old chicks and raw meat. These are difficult to keep fresh, can attract flies and cause stomach upsets. It is much healthier to feed Ferret Complete, which stays fresh and produces firmer, less odorous faeces.
To help maintain your ferret's health and longevity, we now add a natural source of M.O.S. (Manno-Oligo-Saccharides). This helps to stimulate your ferret's immune system and balance the bacteria present in the large intestine, reduces the build-up of pathogens such as salmonella and e.coli, and increases the beneficial lactobacillus.

Ferret Complete is the first British dry ferret food formulated specifically for ferrets.
IDEAL FOR ALL LIFESTAGES.
Made with natural ingredients with added vitamins and minerals
no added artificial colours, flavours or preservatives


PROMOTES A HEALTHY, GLOSSY COAT
blend of omega-3 and omega-6 fatty acids
HELPS TO REDUCE STOOL ODOUR
added yucca extract
ENCOURAGES BENEFICIAL BACTERIA IN THE GUT
added prebiotic MOS - natural yeast extract
Ingredients
Composition

turkey meat, wheat, turkey fat, ocean white fish meal, turkey gravy, potato protein, sugar beet pulp, whole linseed, sodium chloride, calcium carbonate, potassium chloride, yeast extract (MOS), yucca extract.

Minimum levels

turkey (48%), wheat (26%), fish (7%), turkey gravy (5%), linseed (2%), yucca extract (0.019%), yeast extract-MOS (0.009%

Additives per kg

antioxidants: E306/Natural antioxidant, 150mg, Vitamins: E672/Vitamin A, 30,000 iu, E671/Vitamin D3, 2,250 iu, Amino acids: taurine, 500mg. Trace elements: E1/iron, 70mg, E2/iodine, 1mg, E4/copper, 5mg, E5/manganese, 15mg, E6/zinc, 100mg, E8/selenium, 0.15mg

Analytical Constituents

protein 36.0%, crude fibres 2.5%, fat content 19%, crude ash 10.5%, Vitamin E 200mg/kg, omega-3 fatty acids 0.9%, omega-6 fatty acids 3.5%
Dosage
From 3 weeks:
Offer small amounts of food soaked until soft with warm water or broth, gradually decreasing the amount of liquid used. Replace any uneaten damp food with fresh after a few hours. From 4 weeks, offer only dry food.
Up to 16 weeks:
Free feed, every 2 or 3 days to maintain food freshness. At this age, daily food consumption will be approx 7% of body weight (e.g. approx. 35g of food for 500g ferret).
Adult ferrets:
Free feed, but restrict diet to approx 5% of body weight if animals get too heavy (e.g. approx 75g of food for 1500g ferret).
Lactation or final 2 weeks of gestation:
Free feed without restriction.
Please note:
The above guidelines can only be approximate as requirements vary from animal to animal.
Supply plenty of clean fresh drinking water at all times. When switching from other foods allow 7 days for digestion to settle.
Customer reviews
Product reviews are filtered by language.
The following reviews are available in English.
Best food

Kept ferrets for years, started with JWB, have tried others but always gone back. Sticking with it now because it is the best.

James Wellbeloved ferret biscuits

Excellent service, never had any problems with any orders, quickly delivered with no hassle. Would have hesitation recommending this company

great food

My four hobs love this food, they are mostly raw fed so are fussy when it comes to kibble and this is the only one they eat

James Wellbeloved ferret food

Cuts down the smell and keeps the ferrets in good condition. They appear to enjoy it as well

The Best

This is the best ferret food as far as the ferrets are concerned, they love it, if given the choice they choose this one.