Skip to content
Skip to navigation menu
Add to an existing Repeat Order
Add to an existing Repeat Order
Licensed item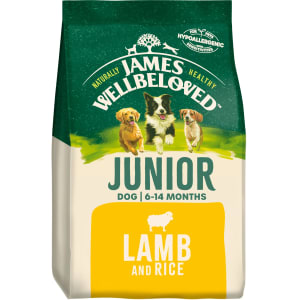 James Wellbeloved Dog Junior Lamb & Rice
This is a licensed item so for regulatory reasons and to ensure we are providing the best product for the health of your pet, we need to ask you to confirm a few details.
Please confirm the type of animal you will be giving this licensed product to:
I am aware of the relevant safety precautions relating to the licensed products.
I will read the packaging and product literature before using any licensed products, and will use all licensed products according to the manufacturer's datasheet
I am not buying for resale and I am happy to be contacted if required
I confirm that the animal the licensed products will be given to is in general good health
I confirm that the animal the licensed products will be given to is NOT pregnant or lactating
Add to an existing Repeat Order
Licensed item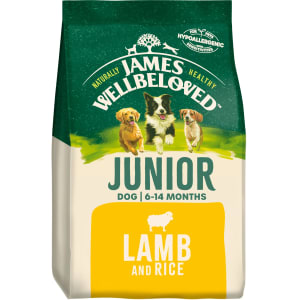 James Wellbeloved Dog Junior Lamb & Rice
This is a licensed item so for regulatory reasons and to ensure we are providing the best product for the health of your pet, please read and confirm the details below:
By purchasing this product, you confirm your pet has been examined by a vet who has recommended the use of this food on the basis of examination and diagnosis.
You understand it is recommended while your pet is being fed this product, you seek veterinary advice at least every 12 months regarding the usage of this food and the on-going care of your pet.
Should your pet's condition deteriorate in any way while using this product, seek immediate veterinary advice.
Add to an existing Repeat Order
You are adding: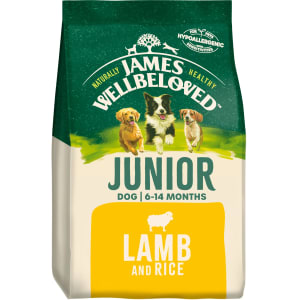 James Wellbeloved Dog Junior Lamb & Rice
To the following repeat order:
Next order due on:


Delivered every
text.account.new.upcoming.orders.payment.brand.
Add to an existing Repeat Order
Thank you, we have updated your order. Your order is due on
You're setting up the following repeat order: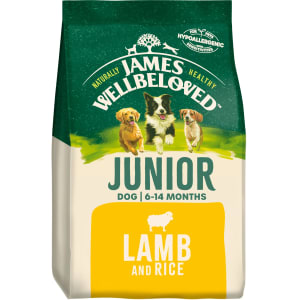 James Wellbeloved Dog Junior Lamb & Rice
Product details
James Wellbeloved Junior Dog Lamb & Rice is ideal maintenance for adolescent dogs with an adult weight over 10kg from 6 months of age. It is a complete hypo-allergenic dry food. With selected protein source lamb and selected carbohydrate sources of rice and barley, it is a dietetic food, excellent for the reduction of ingredient and nutrient intolerances. We suggest that the food be tried for a period of 3 to 8 weeks. If the signs of the food intolerance disappear, continue feeding indefinitely.

Key Benefits:
Made with natural ingredients with added vitamins and minerals
Hypoallergenic - ideal for dogs with skin or digestive sensitivities
Single meat protein - lamb, with lamb fat and lamb gravy
Exclude the most common causes of adverse food reaction
No added artificial colours, flavours or preservatives
Promotes a healthy, glossy coat - blend of omega-3 and omega-6 fatty acids
Helps to reduce stool odour - added yucca extract
Encourages beneficial bacteria in the gut - added prebiotic - natural chicory inulin
Ingredients
Composition: rice, lamb meal, ground whole barley, pea protein, lamb fat, whole linseed, lamb gravy, alfalfa meal, sugar beet pulp, natural seaweed, sodium chloride, chicory extract, omega oil supplement, potassium chloride, calcium carbonate, yucca extract
Minimum levels: lamb (26%), rice (26%), barley (14%), linseed (3%), lamb gravy (2%), alfalfa (1%), seaweed (0.5%), yucca extract (0.02%), chicory extract (0.2%)
Additives per kg: antioxidants: E306/Natural antioxidant, 150mg, Vitamins: E672/Vitamin A, 15.000 iu, E671/Vitamin D3, 2,250 iu, Trace elements: E1/iron, 40mg, E2/iodine, 2mg, E4/copper, 5mg, E5/manganese, 25mg, E6/zinc, 100mg, E8/selenium, 0.2mg
Analytical Constituents: protein 24.0%, crude fibres 3.0%, fat content 10%, crude ash 8.0%, Vitamin E 180mg/kg, omega-3 fatty acids 1%, omega-6 fatty acids 1.3%
Additional Information
Breed Type
Adult Weight (kg)
6 months
7 months
8 months
9 months
10 months
12 months
14 months
Medium
12
230
220
215
205
200
ADULT
14
255
250
240
230
225
16
280
270
260
250
245
18
305
295
25
275
265
20
330
320
310
300
290
22
360
350
340
330
315
310
ADULT
Large
24
380
370
360
350
340
330
28
425
415
400
390
375
370
32
470
460
450
440
430
405
36
515
500
490
480
470
440
40
555
545
530
520
510
475
Giant
45
610
600
590
580
570
540
520
50
660
650
640
625
615
580
560
55
710
700
690
680
670
645
615
60
755
750
740
725
715
685
655
70
845
840
835
825
815
785
755
80
930
925
920
910
900
865
630
90
1015
1010
1000
990
980
945
910
Feeding The Correct Amount
It is important to remember however that these figures are guidelines only, and there are several factors to be taken into account when assessing your pet's nutritional requirements : -
Activity level
Temperament (stressed animals burn off more calories than relaxed ones)
Metabolism (every animal is an individual with his or her own speed of metabolism; this means that 2 dogs of the same age, breed and weight could have different daily calorie requirements)
In order to provide the correct portions when feeding your dog or cat, it is also helpful to assess your pet's appetite, visual appearance and stools. Whilst poo watching does not sound particularly pleasant, it is one of the best indicators of health. Increased frequency of passing faeces, production of large quantities of stools of loose motions are often frequent signs that an animal is receiving more food than he or she requires.
It is important to obtain an accurate weight for your cat or dog, and also to weigh out the food. Guessing on both accounts gives a large margin of error.
Changing Food Brands
For a successful diet change, we recommend following the feeding pattern below. The daily feeding amount should be split into two equal amounts and the proportions of new food increased over the first week as illustrated.

TOP TIPS: For those dogs who do not make eating a priority, here are some additional points:
- Reduce the number of tit-bits given during the introductory period
- If your dog has been used to eating wet food, moisten with warm water.
DAY 1-2

75% Original Diet

25% New Food

DAY 3-4

50% Original Diet

50% New Food

DAY 5-6

25% Original Diet

75% New Food

DAY 7

100% New Food
Customer reviews
Product reviews are filtered by language.
The following reviews are available in English.
Great Dog Food

Our 8 month old Golden Retriever loves James Wellbeloved food in all varieties, but especially lamb and rice. Great offer with free meat pouches which adds further joy to dinner times. Good service too now I'm a VIP customer.

james wellbeloved pouches & kibble

Feed all my dogs on this and they love the pouches also

My German Shepherd has always been a faddy eater. Despite having always bought good quality food, she has been prone to allergies and rashes and each month, refused to eat the food probably because she was bored of it. Four months ago, I tried James Beloved for the first time. I was surprised to see that she ate the food immediately. Within weeks, she had stopped scratching and the rashes had started to clear up. She waits to be fed now and has not got bored of this product. Having seen her health improv