Skip to content
Skip to navigation menu
You have setup the following Repeat Order: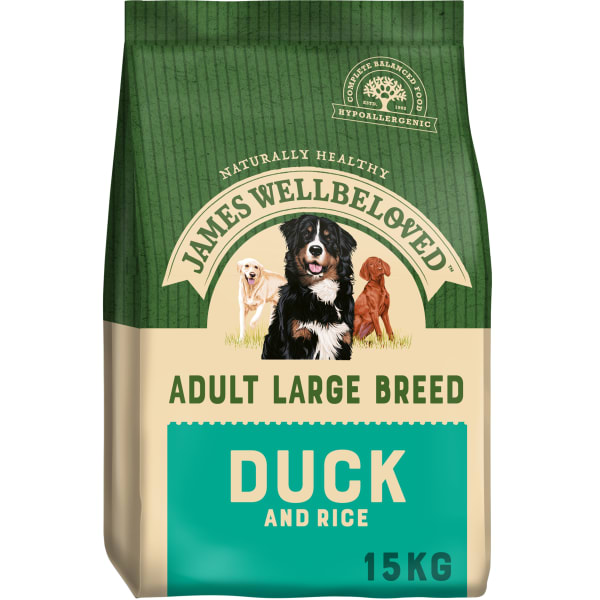 James Wellbeloved Large Adult Dry Dog Food - Duck & Rice
James Wellbeloved Large Adult Dry Dog Food - Duck & Rice
James Wellbeloved natural dog food, puppy food and dog treats Naturally healthy and hypoallergenic - James Wellbeloved complete dog foods are specially selected with wholesome ingredients...
Read more
James Wellbeloved Large Adult Dry Dog Food - Duck & Rice
Back in stock notification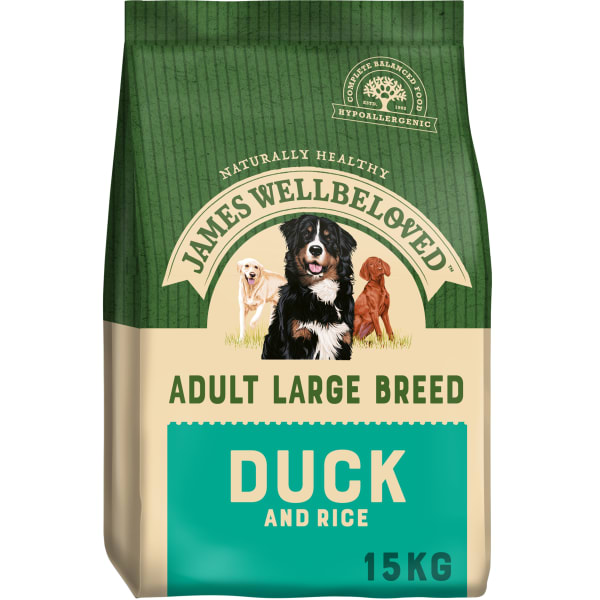 James Wellbeloved Large Adult Dry Dog Food - Duck & Rice
James Wellbeloved Large Adult Dry Dog Food - Duck & Rice
Enter your name and email address below then select which items you would like to be notified of when available.
Product details
James Wellbeloved natural dog food, puppy food and dog treats
Naturally healthy and hypoallergenic - James Wellbeloved complete dog foods are specially selected with wholesome ingredients which make them naturally healthy, completely satisfying and very tasty for your dog.
With no beef or pork, no wheat or wheat gluten, no dairy products or egg our complete dog food is hypoallergenic and free from many of the ingredients which are renowned for causing food intolerances.
Hypo-allergenic means a reduced risk of food allergy or intolerance.
It contains no added artificial colours, flavours or preservatives. James Wellbeloved complete dog food has been developed to be easy on your dog's digestive tract and soothe itchy coats. With your dog's wellbeing in mind, our recipes contain a single source of meat protein - either turkey, duck, lamb or ocean white fish of the finest quality. The carbohydrate content of our food comes from rice, oats and barley. They are not only a valuable energy source but delicate on your dog's digestion too.
We always give you a full list of ingredients on all our products, so you know exactly what you are feeding your pet. Compare the ingredients list of James Wellbeloved complete dog food with other dog foods and you will see why your dog will love the taste of James Wellbeloved.
James Wellbeloved Duck & Rice Dog Food
Complete balanced dry dog food
Wholesome, natural hypo-allergenic dog food. Helps loose bowels and calms itchy, irritated skin and coat.
The benefits for your dog
We use lean, easily digestible duck because it is a tasty, novel source of protein for dogs.  James Wellbeloved Duck & Rice Kibble is a pure, natural, complete dry food which uses organic oats as a source of fibre. Seaweed, alfalfa and yucca are also added for the health benefits they bring.
Great Value Super Premium Pet Food
James Wellbeloved Duck & Rice Dog Food can often work out cheaper then you may think with a 15kg bag containing 50 days of feeding with an average monthly feeding cost of £27. 59, based on the average requirement of an adult dog with normal activity levels weighing 20kg*
All Royal Canin pet foods come with a 100% satisfaction guaranteed or your money back, simply return your purchase back to PET SUPERMARKET®**
*Based on the recommended manufacturer retail price, and recommended feeding guidelines from the manufacturer for 30 days feeding.
**Please note that you will be responsible for the cost of returning the product back to PET SUPERMARKET® and you will be eligible for a full refund of the price paid for the food. If you received free delivery with your order, and the refund brings your order total under the PET SUPERMARKET® free delivery threshold you will be charged at the prevailing rate as per our postage tariff on the day on which you placed your order.
Ingredients
Ingredients and analysis
Ingredients: Rice, duck meat meal, organic oats, duck fat, whole linseed, duck gravy, alfalfa, dicalcium phosphate, natural seaweed, sodium chloride, calcium carbonate, D, L-methionine, lysine hydrochloride, threonine, glucosamine, chondroitin, JWB special ingredients.
Contains:Min 27% duck, min. 27% rice, min 7% organic oats, min 0. 3% JW+.
Typical analysis: Protein 23. 5%, oil 14. 5%, fibre 4%, ash 7. 5%, omega-3 fatty acids 1. 3%, omega-6 fatty acids 2. 8%.
Additional Information
Breed Type
Adult body weight (kg)
Food per day
Large e.g.. Labrador Retriever
24
345
28
390
32
430
36
485
40
500
Giant e.g.. St Bernard
45
550
50
590
55
635
60
675
70
750
80
830
90
905
Feeding The Correct Amount
It is important to remember however that these figures are guidelines only, and there are several factors to be taken into account when assessing your pet's nutritional requirements : -
Activity level
Temperament (stressed animals burn off more calories than relaxed ones)
Metabolism (every animal is an individual with his or her own speed of metabolism; this means that 2 dogs of the same age, breed and weight could have different daily calorie requirements)
In order to provide the correct portions when feeding your dog or cat, it is also helpful to assess your pet's appetite, visual appearance and stools. Whilst poo watching does not sound particularly pleasant, it is one of the best indicators of health. Increased frequency of passing faeces, production of large quantities of stools of loose motions are often frequent signs that an animal is receiving more food than he or she requires.
It is important to obtain an accurate weight for your cat or dog, and also to weigh out the food. Guessing on both accounts gives a large margin of error.
Changing Food Brands
For a successful diet change, we recommend following the feeding pattern below. The daily feeding amount should be split into two equal amounts and the proportions of new food increased over the first week as illustrated.

TOP TIPS: For those dogs who do not make eating a priority, here are some additional points:
- Reduce the number of tit-bits given during the introductory period
- If your dog has been used to eating wet food, moisten with warm water.
DAY 1-2

75% Original Diet

25% New Food

DAY 3-4

50% Original Diet

50% New Food

DAY 5-6

25% Original Diet

75% New Food

DAY 7

100% New Food
Customer reviews
Product reviews are filtered by language.
The following reviews are available in English.
Perfect for our dog

Our dog like so much this taste,we so happy with that

Dogues love it

I always buy James Wellbeloved products for my large breed dogs. I change the flavours to give them a variety. They seem to love them all.

Suits my dog well

My dog is fit and healthy on this but delivery was very late. Should have been delivered Friday, actually delivered the following Tuesday.

Shiny coat, waggy tail

My Labrador loves this food. We are constantly stopped by passers by asking what we feed him on as his coat is so shiny. Would definitely recommend James wellbeloved products.

Dogs love it

Been feeding this to our 3yr old Vizsla and the senior to our 13yr old king charles spaniel and they both love it. Has kept them fit and healthy. Delivery and service is excellent, can choose delivery slot at no cost which is great, no problems.