Skip to content
Skip to navigation menu
James Wellbeloved Dog Senior Lamb & Rice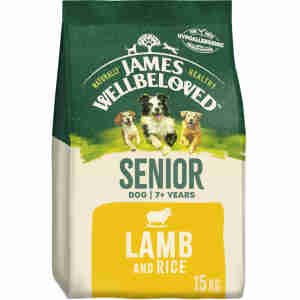 Rollover image to zoom
Product details
James Wellbeloved Senior Dog Lamb & Rice is a complete, hypoallergenic food for dogs over seven years. As a hypoallergenic dog food, it is an ideal way to maintain your dog's nutrition as they mature without aggravating their allergies.
How it works
This product is made hypoallergenic by using selected sources of meat proteins and carbohydrates from rice and barley. Because your dog's immune system weakens as they mature, the skin conditions (like dermatitis) that tend to come with allergies risk causing your dog extra harm by reducing their ability to withstand infection. Targeting their allergy with a hypoallergenic feed is an excellent way to avoid further illness.
The food is also a reliable source of general nutrition. Enriched with omega 3 and omega 6 fatty acids, it helps to promote excellent heart health in mature dogs, whilst keeping their coat glossy and healthy looking.
This food is enriched by natural chicory inulin, a prebiotic, which helps your dog to break down food as it digests. This is particularly helpful for mature dogs, whose digestive systems often slow down with age and require some gentle assistance to process food.
Key benefits
specially selected sources of proteins and carbohydrates to exclude most allergens
the omega 3 and omega 6 fatty acids help keep the heart healthy and maintain a glossy coat
enriched with probiotics to help your dog break down food as it digests
How to use
If you or your vet suspect your dog of having a food allergy, it is recommended that you trial James Wellbeloved Senior Dog Lamb & Rice as their regular meal for a period of 3 to 8 weeks. If your pet's symptoms disappear, you can continue feeding indefinitely.
As your dog matures, it may be worth considering nutritional supplements that assist them in keeping their mind fit and healthy. Talk to your vet about combining James Wellbeloved Senior Dog Lamb and Rice with Aktivait Capsules for Medium and Large Dogs. These capsules supplement your dog's regular diet and nourish your dog's brain as they mature, keeping it sharp and alert.
Ingredients
Ingredients and analysis
Ingredients: Rice, ground whole barley, lamb meat meal,  whole linseed, lamb gravy, sugar beet pulp, lamb fat, alfalfa, natural seaweed, omega-3 and omega-6 supplement, sodium chloride, parsley, nettle, chicory extract, calcium carbonate, lysine, glucosamine, chondroitin, D, L-methionine, yucca extract, threonine, JWB special ingredients.
Contains: Min 21% lamb, min 26% rice, min 14% barley, min 0. 3% JW+.
Typical analysis: Protein 18%, oil 8. 5%, fibre 4. 5%, ash 7%, omega-3 fatty acids 1. 3%, omega-6 fatty acids 1. 1%.
Additional Information
Breed Type
Adult body weight
Food per day
Toy e.g.. Yorkshire Terrier
2
55
4
95
Small e.g.. Westie
6
125
8
155
10
180
Medium e.g.. Border Collie
12
210
14
235
16
260
18
280
20
300
22
325
Large e.g.. Labrador Retriever
24
345
28
390
32
430
36
485
40
500
Giant e.g.. Saint Bernard
45
550
50
590
55
635
60
675
70
750
80
830
90
905
Feeding The Correct Amount
It is important to remember however that these figures are guidelines only, and there are several factors to be taken into account when assessing your pet's nutritional requirements : -
Activity level
Temperament (stressed animals burn off more calories than relaxed ones)
Metabolism (every animal is an individual with his or her own speed of metabolism; this means that 2 dogs of the same age, breed and weight could have different daily calorie requirements)
In order to provide the correct portions when feeding your dog or cat, it is also helpful to assess your pet's appetite, visual appearance and stools. Whilst poo watching does not sound particularly pleasant, it is one of the best indicators of health. Increased frequency of passing faeces, production of large quantities of stools of loose motions are often frequent signs that an animal is receiving more food than he or she requires.
It is important to obtain an accurate weight for your cat or dog, and also to weigh out the food. Guessing on both accounts gives a large margin of error.
Changing Food Brands
For a successful diet change, we recommend following the feeding pattern below. The daily feeding amount should be split into two equal amounts and the proportions of new food increased over the first week as illustrated.

TOP TIPS: For those dogs who do not make eating a priority, here are some additional points:
- Reduce the number of tit-bits given during the introductory period
- If your dog has been used to eating wet food, moisten with warm water.
DAY 1-2
75% Original Diet
25% New Food
DAY 3-4
50% Original Diet
50% New Food
DAY 5-6
25% Original Diet
75% New Food
DAY 7
100% New Food
Customer reviews
Product reviews are filtered by language.
The following reviews are available in English.
James Wellbeloved

Our dog loves it has done from puppy to senior

Great Food

Great food for my 20 yr old collie. Seems to have had a good effect on her tummy and she loves it as 10 yr old Lhasa Apso does too. Great service, and advice.

Too good to be true. No this is true

My friend didn't want to place an order, as she thought it couldn't be the real thing. But even she loves your service. I tell everyone. Quick and efficient service.

Too good to be true. No this is true

My friend didn't want to place an order, as she thought it couldn't be the real thing. But even she loves your service. I tell everyone. Quick and efficient service.

Lamb & Rice Kibble Senior

My dog has eaten this excellent food for many years. He is a black, very healthy looking Labrador with a glossy coat and he is almost 14 years old. The quick delivery from Petmeds and ease of ordering any product is second to none. Many thanks.