Skip to content
Skip to navigation menu
Kokoba Cat Litter Scoop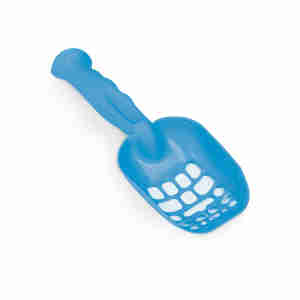 Rollover image to zoom
Product details
The Kokoba scoop has been specially designed for cleaning through fine and clumping cat litter.
What it's for
Cleaning out your cat's litter box is easy with this hard-wearing scoop. Run it through their litter once a day to scoop out any droppings or clumped urine. Remember to replace anything you take out with a fresh handful, and a sprinkle of baking powder (to keep bad smells at bay). Making sure your cat's toilet is nice and clean will encourage them to use it, so little accidents on the floor or carpet should be less common. You can keep the scoop nice and clean by soaking it in hot soapy water once a week or whenever it looks a bit grubby.
Cleaning your cat's litter tray regularly should stop it from smelling strongly. If it's still whiffy, activated charcoal filters should sort the problem out. These absorb and neutralise bad smells and odours. If your cat's poo smells super bad, it could be a sign that they have a tummy problem. If you're scooping out a lot of diarrhoea (and smelling bad gas when they're lying on your lap), it's time to take your pet to the vet. These can be potential signs of several illnesses, from food intolerance to parasites, so it's best to get a proper diagnosis.
Key benefits
made of high quality plastic
designed with ultra-fine cat litter in mind
small slits let unused litter slip back into the tray, reducing wastage
cleaning your litter tray regularly reduces nasty smells.
How it works
This fine-meshed scoop makes it easy to pick up clumping and other ultra-fine cat litters without wasting too much clean stuff. The smooth and durable plastic is long-lasting and really easy to clean. The design works in two ways: the scoop picks up used litter, while small slits let clean stuff flow back into the tray. This means less waste, as well as making it a lot easier to keep your litter clean (and fresh-smelling).
Customer reviews
We're sorry but there are no reviews of this product in English.