Skip to content
Skip to navigation menu
Kokoba Cat Scratching Board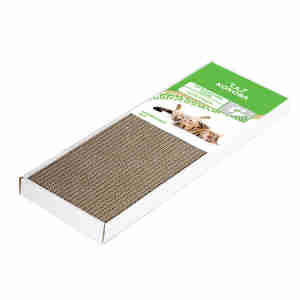 Rollover image to zoom
Product details
This recyclable Kokoba cat scratching board is just the thing to keep your curious pet from sharpening their claws on your furniture.
What it's for
Cats love scratching. It's not just a stress reliever for them; it also helps to keep their claws nice and sharp. The problem is, your pet isn't always too picky about what they use (and that can often be your favourite sofa, or the legs of your bed).
Giving them a scratching board – especially one made from a satisfying material like corrugated cardboard – means they're much more likely to leave the furniture alone. Plus, the two-in-one bed and board also comes with added catnip, making it irresistible to your little buddy. If they're scratching more than usual, it's a good idea to book an appointment with your vet as this might be caused by stress.
Key benefits
tempts them away from the furniture
added catnip to attract your cat
both scratching post and bed
fully recyclable
perfect for indoor cats.
How it works
The cat scratching board is made from hard-wearing corrugated cardboard, so it'll stand up to your cat's claws for quite a while. It's also satisfying for them to scratch, thanks to the texture, and will help keep wandering paws away from soft fabrics and wood – especially when they get the natural urge to start scratching.
Open the added sachet of catnip – the natural herb all cats love – and the scratching post will attract even the most stubborn of cats. Because the scent will last for a long time, your pet's much more likely to come back to the board than look for somewhere else to sharpen their claws.
Lastly, the material used is fully recyclable, making it easy to dispose of and replace – and great for the environment.
Customer reviews
Product reviews are filtered by language.
The following reviews are available in English.
Fantastic

My cat loves this product she is a large cat so l put 2 together with tape and she loves to sleep on it. Wish l had found it years ago as l do not have a leather chair in the house that doesn't have her claw marks on it. In fact she has completely destroyed 2 swivel chairs. It's a good job that she is much loved. !!!!

Cats love it

My cats love this scratching box, but it is a bit messy as bits come off, so put it somewhere a bit hidden.