Skip to content
Skip to navigation menu
Kokoba Deshedding Brush Tool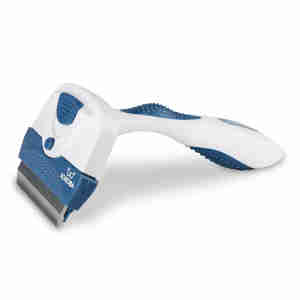 Rollover image to zoom
Product details
The Kokoba universal dead hair remover can be used as part of your furry friend's weekly grooming routine to get rid of uncomfortable matted, loose and dead fur.
What it's for
This tool can be used on cats and dogs with long and short coats. Removing dead or loose fur from your pet's coat stops it becoming matted, which can tug on their skin, making it dry and irritable.
The Kokoba dead hair remover comes in different sizes to suit your pet: from small, for dogs under 4.5 kilograms, to extra-large for big dog breeds over 22 kilograms like Great Danes or huskies.
The stroking action of this tool calms your pet and helps you to bond with them. It's ideal for cats and dogs who get panicked during grooming sessions as the gentle movements help them to relax.

Key benefits
stainless steel blades can be replaced
available in four different sizes (small for dogs under 4.5 kilograms, medium for 4.5-10 kilograms, large for 10-22 kilograms and extra-large for greater than 22 kilograms)
gently removes dead hair without tugging
decreases shedding by up to 90%.
How it works
The Kokoba universal dead hair remover is a gentle, quick and easy way to help your pet get rid of dead and loose fur. Removing this fur regularly can stop your cat or dog shedding around the house. Using this tool once a day can help to thin the undercoat and reduce moulting by up to 90%. It's perfect for pooches and kitties who shed on upholstery.

The gentle, stroking motion of the Kokoba universal dead hair remover also spreads natural good fat across your cat or dog's coat. This is essential for keeping their coat glossy and their skin healthy.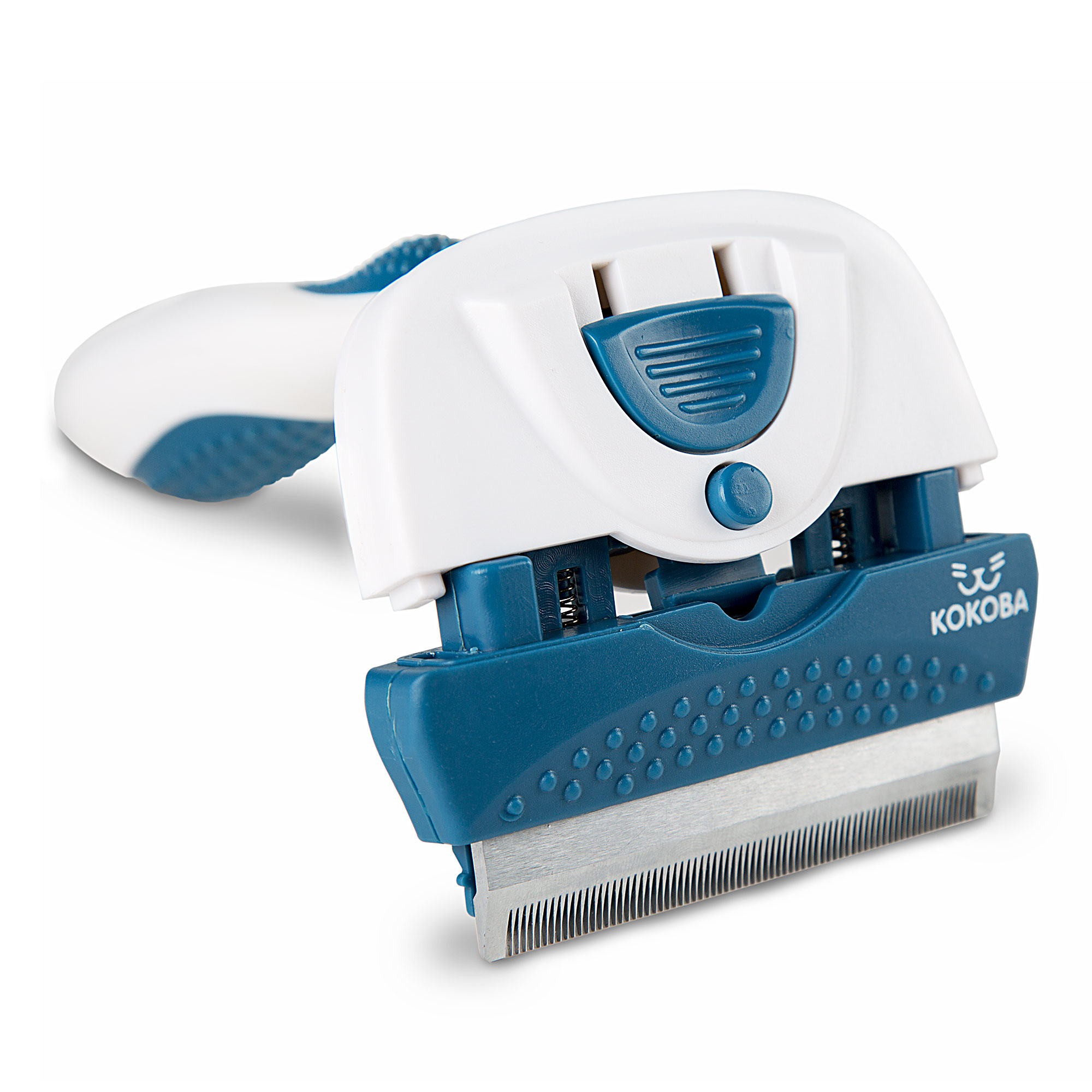 Follow the instructions carefully to change the blade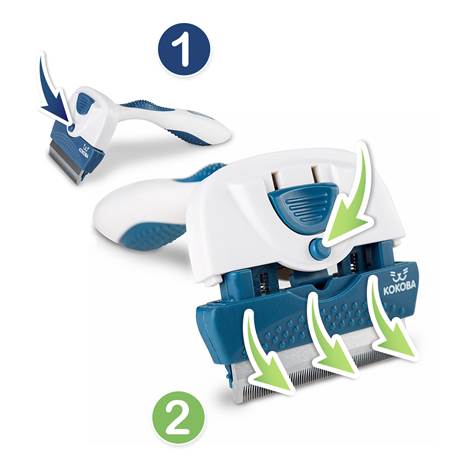 Customer reviews
Product reviews are filtered by language.
The following reviews are available in English.
Absolutely fabulous

I couldn't believe how effective this was. It now lives beside the sofa within easy reach when the fluffy one hops up. She loves it, too. I've used brushes, robber gloves, combs, and nothing is as effective as this.

KOKOBA DESHEDDING BRUSH

I bought this brush not having heard off it, and found it to be just as I wanted. It does an excellent job of getting rid of dead hair off my cross Labrador.

excellent tool

excellent tool to combat the problem of constant hair shedding from two elderly cats! works well and the cats seem to enjoy it!

De shedding my cat

I was a bit worried about using this product on my cat as he is 14 and set in his ways. I found it very easy to use and my cat enjoys it as much as his comb.

Kolhapur de-shedder

Fantastic product,my dog,cat love being de-shedded with it.Hope our dog rolls on her back to have her belly done.our cat purrs all the way through.very much recommended.