Skip to content
Skip to navigation menu
Kokoba Deshedding Conditioner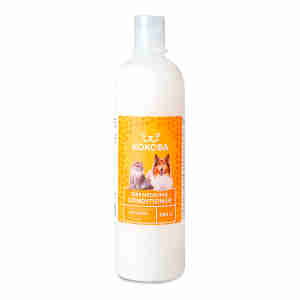 Rollover image to zoom
Product details
Use Kokoba deshedding conditioner after your pet's usual shampoo to cut hair fall and help to detangle longer coats.
What it's for
Kokoba deshedding conditioner helps to strengthen and nourish your pet's undercoat, making them less likely to shed a lot of hair. It's also great for releasing tangles in the coats of longer-haired pets. Knots and tangles don't just look bad, they can also get matted and become uncomfortable and painful for your little pal.
Cats and dogs usually shed hair a couple of times a year, as they grow thick coats for winter and drop them in spring. Longer-haired breeds shed a little bit all year round. If you feel like your pet's losing a lot of hair, or more than normal, it could be a sign that there's something wrong. Hair loss can be related to lots of things like stress, a bad diet or a medical condition. This conditioner is formulated to boost overall hair health, but if you've got any worries, make sure to have a chat with your vet.
Key benefits
500 millilitre bottle
can be used on cats and dogs
really nourishing and can help to strengthen hair
helps to detangle and soften knots in long coats
really moisturising for a soft feel
environmentally friendly and more than 90% biodegradable
professional groomers use it
pH balanced and kind to sk.
How it works
The conditioner's been specially formulated to moisturise skin as well as nourishing and strengthening hair. It's made from a special mix of natural ingredients (it's more than 90% biodegradable, so good for the environment) and helps to release your four-legged buddy's undercoat, meaning your beloved pet will drop less hair around the house. The nourishing formula softens tangles too, so brushing and grooming becomes smooth-as-you-like. With ingredients working together to strengthen, regenerate and restructure unhealthy hair, your pet will be looking their best.
Add it to your pet's usual bathtime routine. After rinsing the shampoo off, rub in a big dose of conditioner. Comb and then leave it for five minutes before rinsing.