Skip to content
Skip to navigation menu
Kokoba Dog Chew Toy - Rugby Ball with Rope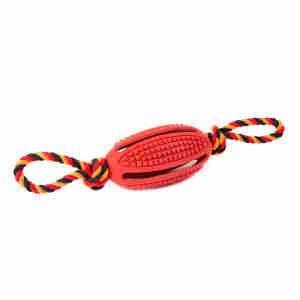 Rollover image to zoom
Product details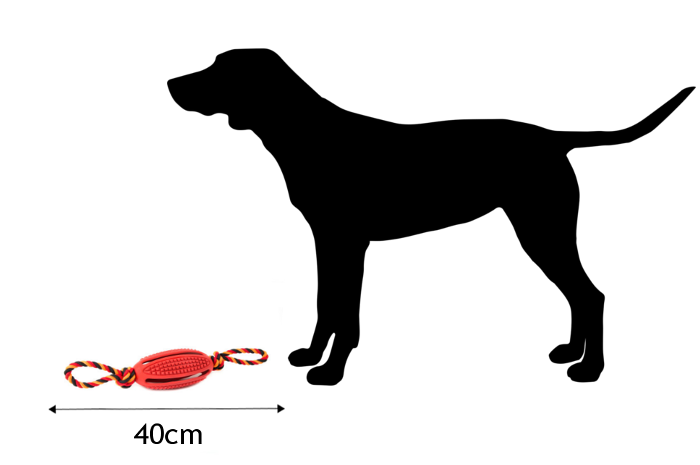 The 100% natural Kokoba rugby ball with rope is simple but effective way to keep your dog active.
How it works
The Kokoba rugby ball can provide hours of fun for you and your pet. You can use the rope to launch the ball further in a game of fetch or make it into a handle for games of tug-of-war. This helps strengthen your dog's jaw as they pull on it, which is important in ensuring they can eat hard treats as they get older.
Playing these kinds of games with your pooch is also a simple way to develop the bond between you and your pet - particularly useful if you've got a new addition in the family.
The rubber material used is completely natural and non-toxic, making it safe for your pup. The 16.5-centimetre size is perfect for large and small dogs and easy for you to carry to and from the park.
Key benefits
physical and mental exercise for your dog
made from 100% natural non-toxic rubber
total measurement: 40 (l) x 9 (w) cm. Ball: 18 (l) x 9 (w) cm.
When to use it
Bring the Kokoba rugby ball with you out on walks or when you go to the beach for some added fun for your dog. The shape of the rubber ball means that the ball will jump and bounce around erratically which is great mental stimulation for your pet as they try and guess where it will land next. It also helps encourage their natural fetching instincts.
Customer reviews
We're sorry but there are no reviews of this product in English.