Skip to content
Skip to navigation menu
Kokoba Dog Clicker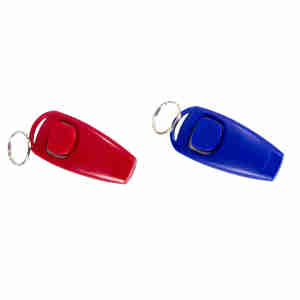 Rollover image to zoom
Product details
Teach your pet all the best tricks with this Kokoba dog clicker.
What it's for
This clicker helps get your dog into great behaviour habits. While it's best to train your dog when they're still a puppy, they can respond to the right kind of training at most ages. Certain breeds or rescue animals might be a bit nervous in their new home, perhaps unsure of how to behave. You can help them feel more comfortable and stop any unwanted habits by rewarding them when they do well.
The Kokoba dog clicker reinforces good behaviour with a click and a treat, showing your pet they've done a great job. This is called 'positive association', and makes for the perfect method to teach your dog all sorts of tricks. If you want any more advice on training your dog, have a chat with your vet.
Key benefits
uses positive reinforcement to train your pet
ideal if your dog is new to the family
fits on a keychain
features added whistle
easy to hold and use.
How it works
Dogs tend to learn best when you use a long-term training method. The Kokoba dog clicker teaches them through positive reinforcement. This is when they start to associate a certain sound (or treat) with good behaviour. You can use the clicker to help them understand that fetching the ball, or sitting down before receiving a snack, is good behaviour. Make sure you click as they're doing what you want them to do – instead of after – and give them their treat immediately.
The clicker itself also comes with a whistle – great for those long walks if they love to run off. What's more, it fits easily onto your keychain, so you'll always have it to hand.