Skip to content
Skip to navigation menu
Kokoba Eye Cleaner for Cats & Dogs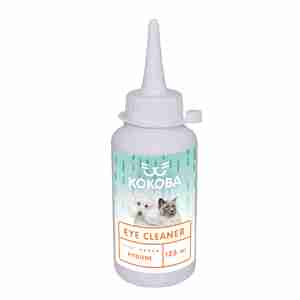 Rollover image to zoom
Product details
Kokoba eye cleaner for cats and dogs can help to reduce crusty and gungy mucus build-ups around your pet's eyes.
How it works
Eye mucus is natural for most animals, but you should clean it up to reduce the chances of your pet developing health issues. If you leave it to sit it can go crusty, and your pet's eyes might even stick together. Bacteria are also attracted to mucus, and can cause eye infections. Using these eye drops regularly keeps your pet's eyes healthy and your little buddy on top form. The formula is gentle on eyes, but strong enough to soften gunk so you can wipe it away without pulling at your four-legged friend's hair.
Key benefits
125 millilitre bottle
formulated for dogs and cats
makes removing dirt and dust easier
stops crust from forming and eyes sticking together.
When to use it
It's good to get into a routine of cleaning your pet's eyes once or twice a week. Some flat-faced breeds, such as bulldogs and shih tzus, might need it more than this, as their shallower eye sockets produce more discharge. This eye cleaner is also good if your pet has dry eyes and can't produce tears.
Apply the eye clear to a clean cloth or cotton pad, gently wipe the cloth or cotton pad to the outer area of the eye and leave to dry.
A little bit of mucus is normal, but if your pet has a lot of eye discharge (especially green or yellow), it can be a sign of bacterial conjunctivitis or another medical condition. Bacterial conjunctivitis can be passed to humans, so it's important to wash your hands thoroughly with an anti-bacterial soap. You should also take your pet to the vet straight away, as it can sometimes be a symptom of nerve damage, dry-eye, glaucoma, or an infection.
Customer reviews
Product reviews are filtered by language.
The following reviews are available in English.
easy to use great buy

bought these for my labradoodle ,very gentle on her eyes she is only a 6 month old pup and would let me know if she doesnt like it ,well worth the buy,keeps her eyes nice and clean,i just put a little on a cotton pad and wipe over her eyes,very gentle