Skip to content
Skip to navigation menu
Kokoba Finger Toothbrush Set for Dogs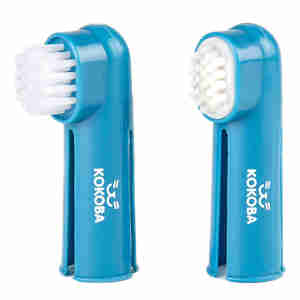 Rollover image to zoom
Product details
Keep your pet's teeth and gums squeaky clean and healthy with the handy Kokoba toothbrush set.

What it's for
Just like walkies, brushing your pup's teeth should be a key part of their routine. It's important that you take good care of your pet's teeth and gums. If teeth aren't cleaned regularly, it can lead to a buildup of plaque and tartar, which in turn can lead to nasty infections. Bacteria that lives in plaque and tartar can easily affect your dog's kidneys and stomach, weakening their immune system and making them ill.
Brushing your pet's teeth regularly with the Kokoba toothbrush set can help stop plaque and tartar from building up and keep their teeth and gums strong and healthy.

Key benefits
two brushes to clean gums and teeth
brushing regularly can stop plaque and tartar buildup
easy to use brushes that get in small spaces.
How it works
The Kokoba toothbrush set contains two brushes. Each brush is made specifically for a different part of your pet's mouth. It couldn't be easier to use them: simply put your index finger in the hole of the brush and rub your pet's teeth and gums gently.
The first brush is designed to get rid of leftover food that gets stuck between your dog's teeth – without cleaning, this could lead to a nasty plaque buildup. This brush is made from polypropylene bristles that are gentle on the gums and effective in getting into hard-to-reach areas of the mouth. The second brush is made from rubber and is designed to improve blood flow in your pet's gums and mouth.
Always talk to your vet if you're concerned about your pup's dental hygiene.
Customer reviews
We're sorry but there are no reviews of this product in English.