Skip to content
Skip to navigation menu
Kokoba High Sided Cat Litter Tray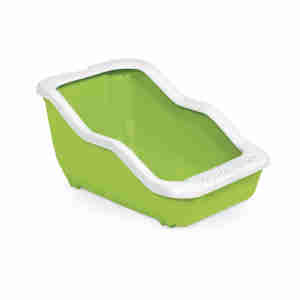 Rollover image to zoom
Product details
The Kokoba high-sided cat litter tray is perfect for nervous pets who don't like using enclosed litter boxes.
What it's for
Kittens (and some adult cats) can get a little bit nervous doing their business inside enclosed boxes. A high-sided litter tray is nice and tidy like a closed box, but it's also open to the room so your pet won't feel so anxious. Even if kitty doesn't like being closed off from the world, they still need privacy to go to the loo. Keep the litter tray somewhere quiet (ideally in a corner) where your cat won't get put off by passers-by. Put about 3 centimetres of litter in so they can burrow, and keep it away from their food or water bowls. Cats are really clean animals, and they don't really like to use the toilet near where they eat.
Key benefits
high sides keep litter spray to a minimum
high quality and durable plastic is long-lasting
neat and tidy alternative for cats who don't like using closed-in litter boxes
elderly or unwell cats can easily step into it
has an simple-to-clean removable edge.
How it works
If your cat kicks their litter out of their tray, this high-sided one will help stop them. It has a protected edge to catch the worst of the spray and it's smooth and easy to clean, with a border that slips off so you can top up the litter or give it a full wash without any hassle. This also makes it simpler for elderly or ill cats to step inside – no jumping required!
Customer reviews
Product reviews are filtered by language.
The following reviews are available in English.
Perfect

I've tried hooded trays which mine weren't keen on and a low sided tray which I then end up with litter kicked everywhere! This tray is perfect high sides so if the aim a little to high it stays in the tray and less mess when they cover up their buisness. Definitely recommend it

Just what I wanted

Just what I wanted as my cat was spraying onto the wall and it was driving me mad. This has done the job. Having said this, he decided to turn around in the box an spray the other way!!! Typical cat. Seriously, most times he turns the right way around.

Brilliant idea.

This is perfect for Snowy my 11year old cat who has arthritis in her back legs. It makes it easier for her to get in and out, also there is hardly any cat litter strewn about after use due to the high sides. So I would say a pur fect product. I would highly recommend this product and seller.

Box

Bigger than what I thought and easy to clean.

Very happy

Yep very happy and the cats to easy to clean