Skip to content
Skip to navigation menu
Kokoba Litter Box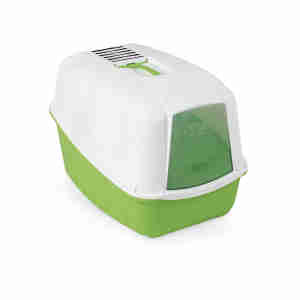 Rollover image to zoom
Product details
The Kokoba cat litter box is easy to use and great for helping kittens (and anxious cats) get used to the idea of an enclosed loo.
What it's for
If your cat's never used an enclosed litter tray, this box is a great way to introduce them to the idea. As cats need privacy and peace to go, the box is good for small homes without any nooks or crannies to hide an open litter tray in. Although it'll give your furry friend their own closed-up space, it's still really important to think about where you're going to put their bathroom. It's good to keep it away from lots of foot traffic (so not in your hallway!) and away from their food and water bowls. Cats are really clean animals, and they get a bit put off by the idea of doing their business near where they eat. Well, wouldn't you?
Key benefits
made from strong (really high quality) plastic
gives your cat peace and quiet to do their business
makes it really difficult for them to kick litter onto the floor
comes with its own scoop
integrated lid makes it easy to clean
can pop an activated carbon filter in if things get a bit stinky
perfect for nervous cats and kittens.
How it works
If you're driven mad by your cat kicking litter onto the floor every time they go to the loo, then giving them an enclosed box is a great way to put a stop to it. The high sides mean it's nearly impossible for your cat to spray litter around. The box has a swing opening so you can reach in and clean the tray without any hassle. It also means you can leave it open at first to help nervous cats or little kittens get used to the idea of an enclosed box. The high quality plastic is really durable and there's a scoop included with the box so you can quickly pick up any droppings.
Customer reviews
Product reviews are filtered by language.
The following reviews are available in English.
Hooded cat litter tray

Good price, excepted by very fussy cat, easy to clean due to rounded corners. Very happy with purchase.

The best!

Best hooded litter tray I have ever had as a very long time cat owner and excellent price.

just right size

my previous litter tray was big as my previous cat was large, my current baby girl tended to get lost in it, in this one she has enough space and is comfortable. It is also light and easy to pick up to move and clean. The only problem I have is that the push buttons at the rear are quite hard to press. I haven't be able to conquer it yet so lift it as far as is comfortable for me and clean tray via the lid. Just call me feeble.