Skip to content
Skip to navigation menu
Kokoba Natural Clumping Cat Litter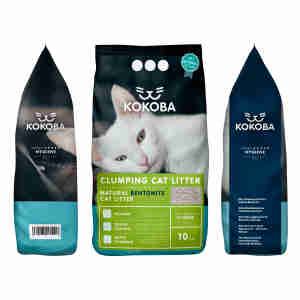 Rollover image to zoom
Product details
Kokoba clumping cat litter is totally natural (and super easy to clean, too).
What it's for
Kokoba clumping cat litter should be used the same way as your normal cat litter. Some kitties can get put off by change. If they go to their tray and find a big difference to normal, they might decide to start going to the loo on the floor instead. To start using a clumping litter, begin by mixing it in gradually with the regular stuff. After three to five days, you should be able to swap it completely, and your cat won't even know a thing.
Key benefits
less dusty than regular cat litter
safe for cats and 100% natural
good for the environment
clumps fast and lasts for ages
reduces bad smells
really easy to clean: just pick out the clumps
keeps tray nice and dry
made from fine white bentonite.
How it works
Clumping cat litter has become really popular with cat owners as it's easier to clean than the traditional stuff and doesn't create as much dust. It's made from all-natural white-bentonite – a type of clay which is totally safe for cats and clumps really easily. It doesn't get stuck to your pet's paws and dragged around the house, and because it comes together easily, you don't need to empty the tray to keep it clean. Just pick out the clumps to keep it clean. You can use a special scoop or pop some gloves on and get stuck in with your hands.
When it's time to use it, fill the tray to 5-7 centimetres so your cat's got space to burrow. Take clumped waste out every day to stop it from getting whiffy. Top it up once a week to replace anything you've taken out, and empty the tray once a month. Because this stuff clumps when wet, make sure the tray is fully dry before refilling it.
Customer reviews
Product reviews are filtered by language.
The following reviews are available in English.
Good value, terrible carrier

Excellent value when on offer, the packaging arrived ripped to bits, I blame the carrier not Pet Supermarket .

Kokoba cat litter

I buy this product regularly and am never disappointed. It's excellent as there is no odour and you can easily remove any wet areas.

Kokoba cat litter

Best ever, cats using it, sometimes just dig for the pleasure of it, no earthy smell from clean litter like some other makes, not much trail, easy to clean, loved by all.

Kokoba natural clumping cat litter

It's the best litter for my cats. They don't like using any other and the clumping makes cleaning out the tray very easy and it lasts a lot longer than other cat litters.

best ever litter

brilliant litter - no smell and you only take out what has been used.