Skip to content
Skip to navigation menu
Kokoba Odour Control Shampoo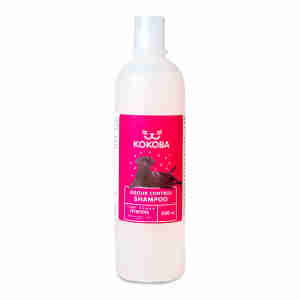 Rollover image to zoom
Product details
Kokoba odour control shampoo helps keep your cat or dog smelling fresh by getting rid of nasty pongs.
What it's for
Kokoba odour control shampoo is great for washing pets that have a really strong smell. Some dog breeds (like labradors, cocker spaniels and basset hounds) have glands that produce more oil, making them a lot smellier than your average animal. If your little buddy starts to get a bit whiffy, just give them a bath with this special shampoo to freshen them up. You use it like any other shampoo. Pop your pal in the tub, get them nice and wet with warm water, and then massage the shampoo into their coat until you've got a big foamy lather. Rinse it off and repeat.
If your pet doesn't normally smell bad, this could be a sign that something is wrong. Sometimes bad smells can be caused by skin conditions, allergies and infections. This might be what's causing the problem if your pet has other symptoms like itching, redness or is acting a bit restless. If you're worried, take them to the vet as soon as you can.
Key benefits
500 millilitre bottle
can be used on cats and dogs
gets rid of bad smells
formula is scent free
environmentally friendly (90% biodegradable)
gentle on skin and pH balanced.
How it works
If you like your pet to smell like a pet (and not like perfume), don't worry. This formula is completely scent-free. It works by getting rid of the bacteria that make your furry pal's coat a little bit pongy. It doesn't just remove bad smells, it also cares for their hair and skin. It's got aloe vera in it, which is soothing, and Peg-60 hydrogenated castor oil (it sounds complicated, but it just cleanses the coat). The formula is good for the environment, too, and is 90% biodegradable.
Customer reviews
We're sorry but there are no reviews of this product in English.