Skip to content
Skip to navigation menu
Kokoba Perfume for Dogs & Cats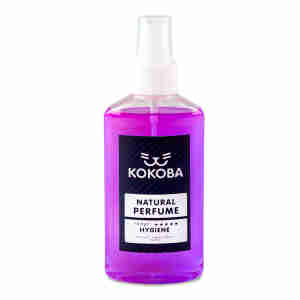 Rollover image to zoom
Product details
Freshen up whiffy pets between bath times with Kokoba perfume for dogs and cats.
What it's for
Kokoba perfume for dogs and cats is perfect for keeping your pet smelling fresh, or using as a deodorant after bathtime. Just give the bottle a shake and hold it 15-20 centimetres away from your pet. Be really careful not to point it towards their eyes, and spray. If you do accidentally get a bit in their eyes, just rinse them well with water.
It's normal for cats and dogs to smell a little bit (especially breeds like Labradors, basset hounds and cocker spaniels), but if they're really stinky, it might be a sign that something's wrong. Bad-smelling coats can be caused by infections and bacteria getting under the skin. Apart from a bit of a whiff, other symptoms to look out for are scratching a lot, patches of red swollen skin, and acting a bit restless. If this sounds like your pooch or kitty, speak to your vet.
Key benefits
125 millilitre bottle
all-natural ingredients
gets rid of bad smells by neutralising them
gentle fragrance
alcohol-free so kind to skin and hair
pH balanced so less likely to cause irritation.
How it works
If you wash your pet too often you can accidentally strip away the natural oils which are important for keeping their skin and hair healthy. Sometimes your pet might smell a little bit less than fresh, even if bath-time isn't for another couple of weeks. This perfume spray's ideal for a quick spritz up, as it can freshen up their coat without damaging it. There's no alcohol in the formula so there's no risk of it drying out your pet's hair or skin, and it's pH balanced so that it's nice and gentle. The scent is really subtle (so your pet won't become a four-legged bowl of potpourri), and it works as a deodoriser (getting rid of the bacteria that causes bad smells). It's also a pump spray rather than an aerosol, so nervous animals won't get a fright.
Ingredients
Water, glycols, fragance, excipients
Customer reviews
We're sorry but there are no reviews of this product in English.