Skip to content
Skip to navigation menu
Kokoba Pet Car Trunk Cover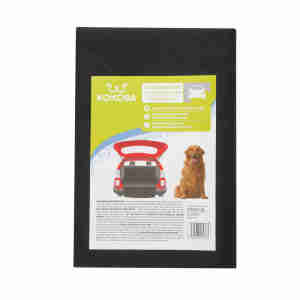 Rollover image to zoom
Product details
Make travelling with your pets no problem with this Kokoba pet car trunk cover.
What it's for
Taking your pets with you on a trip, even if it's a short one to the vet, can sometimes be a bit tricky. The stress of travelling might make them uneasy or upset, especially when they're kept in a container. A good solution can be to stroke them, and with this trunk cover you can let them feel a little more free while you pet them.
Make sure that you give them plenty of breaks if you're on a long journey and never leave your pets in a parked car, especially in hot weather. If you need any advice about travelling with your animals, then talk to your vet for some other suggestions on how to make things easier.
Key benefits
protects the bumper, sides and floor of your car's upholstery
scratch resistant for lasting performance
easy to fit and remove thanks to quick-release system
adjustable straps
fits in most standard cars
water-repellent coating
How it works
This cover comes in two pieces, and the adjustable straps mean you can fit it to most cars quite easily. The design covers the boot floor as well as the sides and the bumper, so your pet won't get hair everywhere or scratch the delicate upholstery of your vehicle when you're travelling.
The water-repellent coating on the cover also means that even if your pets have been out in the rain, your car will still be dry and clean underneath. Once you've finished your journey, it's easy to remove thanks to its clever quick-release system. Whether you're headed for a day out or just down the road, this cover means your pets can always come along for the ride.
Dimensions:
Cover - 120.5 (h) x 159.5 (w) cm (without bumper attachment)
Bumper attachment – 74 (w) x 51 (h) cm
;
Customer reviews
We're sorry but there are no reviews of this product in English.