Skip to content
Skip to navigation menu
Kokoba Pet Flea Comb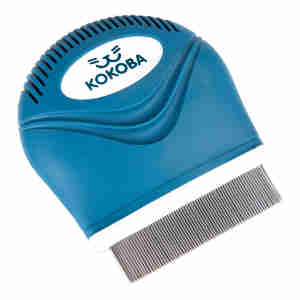 Rollover image to zoom
Product details
The Kokoba Flea Comb is ideal for getting fleas out of your pet's coat.
How it works
With long, fine metal prongs, the Kokoba Flea Comb easy gets through your cat or dog's fur to reach the skin so you can remove as many fleas as possible. Getting the living fleas out of your pet's coat stops them laying eggs and spreading.
This comb has a comfortable grip handle and can be used wet or dry. It's super easy to keep it clean. After each use, make sure that all of the fur, eggs and fleas have been removed and disinfect in hot, soapy water.
Key benefits
for cats or dogs with long or short fur
thin prongs to reach through fur
easy to use with a grip handle
metal prongs for removing fleas
can be used on wet or dry fur.
What it's for
All cats and dogs get fleas at some point during their life. Coming across these pesky beasts is an inevitable part of being a pet owner. You can prevent a flea outbreak by protecting your pet with a spot on solution that helps to kill fleas and stop them breeding.
If your pet is scratching more than usual, check their neck and underarms for fleas straight away. This comb can be used after a flea treatment to get rid of dead and living fleas in the fur. Use it in the bath alongside a flea shampoo or on dry fur as part of their grooming routine. Make sure you remove eggs and larvae at the same time; if left behind, these can irritate your pet's skin.
Customer reviews
We're sorry but there are no reviews of this product in English.