Skip to content
Skip to navigation menu
Kokoba Pet Massage Glove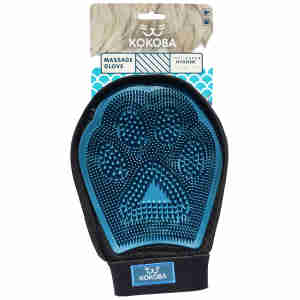 Rollover image to zoom
Product details
For glossy, shiny fur, use the Kokoba Massage Glove at bath time.

What it's for
Your pet's fur needs to be groomed regularly to help it stay healthy. Longer hair will need a little extra care to stop it getting matted and tugging on your pet's skin. Use this glove weekly to get rid of dead and loose fur.
Thanks to its deep penetrating action, this glove can be used with shampoo and conditioner for a professional finish, leaving your furry friend's coat shiny and glossy.

Key benefits
use dry or in the bath
helps shampoo to get through thick layers of fur
helps to lather more foam
conditions coat by removing dead hair and surface dirt
rubber tips massage the skin for better blood circulation
Velcro strap supports your wrist.
How it works
The Kokoba Massage Glove can be used wet or dry to groom your cat or dog. It has soft, rounded rubber tips that help to comb through fur, working the shampoo deeper into your pet's coat for a thorough clean. The rubbing action helps to create more foam and spreads it evenly across the coat so no section of fur is forgotten.
Used dry, this glove helps to get rid of loose fur so your pet sheds less around the house. Loose or dead longer fur can become matted with dirt if it's left unbrushed. Adding this brush to your pet's grooming routine can help their coat stay shiny and tangle-free.
As well as cleaning them, this glove helps to massage your pet's skin. The gentle motion of the glove stimulates blood flow that keeps their underlayer strong. The glove also distributes fats across the coat, leaving it healthy and glossy.
Customer reviews
Product reviews are filtered by language.
The following reviews are available in English.
Glove

Amazing how much hair is grabbed with this gloge

Review of the Kokoba Mitten

The mitten itself was a brilliant thing. You only have to use it and the coat shines.

Great purchase

Perfect I brought this for my cat and he loves it . It's a perfect fit on my hand and it's very well made