Skip to content
Skip to navigation menu
Kokoba Pet Water Fountain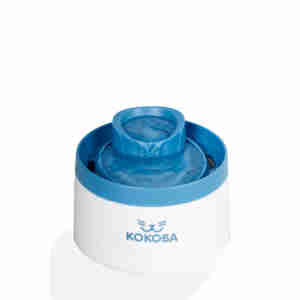 Rollover image to zoom
Product details
Use this Kokoba water fountain to make sure your cat always has clean water when they need it.
What it's for
You might have noticed your cat often drinks from a dripping tap, or running rainwater. They may also have a habit of drinking rainwater while on the prowl outside. While generally not a problem, they can easily pick up diseases and viruses from water that's collected in rusty containers or dirt.
If they don't like drinking from their bowl, then this Kokoba water fountain is a fun fix that can get them drinking the right amount of water they need on a day-to-day basis. Not only will the fountain effect attract their attention, it's also filtered to make sure it's safe. If you want to know more about how much water your cat should drink, ask your vet for advice.
Key benefits
running fountain effect attracts thirsty cats
recommended by vets
low power usage
helps reduce the risk of kidney infections
promotes healthy urinary tract
oxygenated water for maximum refreshment
How it works
Designed to make drinking as appealing as possible for your cat, this fountain uses a very small amount of electricity to keep water flowing and full of oxygen. The oxygenation effect makes it really refreshing for your cat to drink, so they're much more likely to use it as their main source of water.
Recommended by vets, the fountain can help reduce the risk of kidney and urinary problems, as these are often caused by either not drinking enough water, or drinking water from potentially unhealthy sources (like rainwater). You can make sure the water is always fresh and clean by changing the carbon filters regularly.
Click here
to find out more about how we help to provide recycling facilities for electrical equipment.
Customer reviews
Product reviews are filtered by language.
The following reviews are available in English.
Brilliant Product! Highly Recommend

Received the product much quicker than expected which was great! Put together easily and fantastic for my 3 cats. Only received today and they are very curious but not used yet. I'm sure it won't be long before they do

Fresh water attractive to cat

Found this easy to fit together. Very quiet. Only occasìonally here rippling water which reminds me it is there! Cat seems to like it. Easy to top up. Very pleased with this purchase.

Great value for money

Easy to assemble. Does get noisy when the water level drops. . Which is a good reminder to replace water . Comes with a cable protector/tube, which i decided not to use.

Kokoba Water Fountain

After 3 weeks both our 7-year old cats are using it - a success.

Excellent Water Fountain

My cat does not like change & I wondered if he would use this when we bought it. He took to it right away & when I put his usual water dish beside it, he ignored it and used the fountain instead. It doesn't make any noise & is a perfect size. My partner also pointed out that the spare piece of pipe that comes with it is a shroud that goes over the wire, to protect the wire & stop your pet from chewing it.