Skip to content
Skip to navigation menu
Kokoba Set of 4 Wheels for Transport Crate - IATA Approved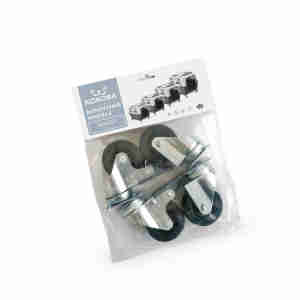 Rollover image to zoom
Product details
Getting your Kokoba travel crate round the airport (or to and from your car) is a lot easier with these four IATA approved wheels.
What it's for
Even the smallest and lightest pets are heavy when they're inside a big sturdy travel crate. Pop these wheels on the bottom so you can roll them instead. It takes the strain off your muscles and also means your buddy gets a smoother ride. The wheels are approved by the International Air Transport Association (IATA), so you can even use them if you're taking your pet somewhere by air.
If your buddy isn't already used to their Kokoba Travel Crate, let them start exploring it a week or two before you're set to go on your big trip. Putting their favourite blanket or toy inside will remind them of home, and should keep them calm on long journeys.
Key benefits
approved for air travel by the IATA
fits the Kokoba Travel Crate (sold separately)
snaps on, so you don't need any tools
kit features four wheels: two front wheels for steering (with a locking mechanism) and two rear wheels that are fixed in place
made of metal.
How it works
You don't need to dig out dad's toolbox: simply snap these wheels onto your Kokoba Travel Crate and roll your pooch or kitty towards adventure. Just like the crate they're designed to fit, these wheels are approved by the International Air Transport Association (IATA) so you can bring them on board most planes. The back two wheels are fixed in place, but the front ones can change direction for easy steering. There's also a locking mechanism so your pet doesn't go rolling around on an adventure of their own!