Skip to content
Skip to navigation menu
Kokoba Small Cat Scratching Tree with Dangle Toy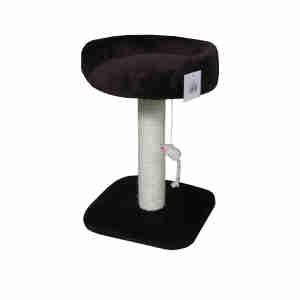 Rollover image to zoom
Product details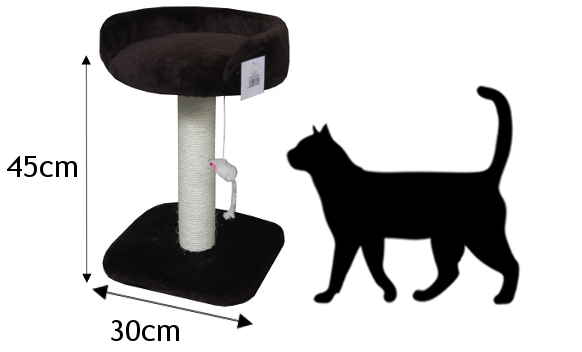 With a comfy bed to snooze in, a post to sharpen claws on, and plenty of dangling toys for kitty to bat at, this cat tree will be a real playtime favourite.
What it's for
This cat tree has everything your moggie needs in one handy place, from a place to play to a spot to catch forty winks.
Scratching and clawing is an important part of your cat's daily routine. If they don't have somewhere special to do it, like the scratching post on this tree, they might find somewhere else – watch out, antique armchair! It's how they mark their territory, so their area has to be a comfortable and safe place that they want to claim.
As well as marking territory, scratching also involves lots of stretching and can help keep your kitty's muscles healthy and flexible. It's also a real stress buster (who needs yoga?) Scratching is totally normal, but if you're worried they're doing it too much, you should have a chat with your vet.
Key benefits
good size for kittens and small cats
helps to keep claws and muscles in good condition
soft cushion is purrfect for catnaps
made from super-tough natural sisal
bed is raised so kitty can survey their territory
features one fun plush toy with a bell.
How it works
Cats just love digging their claws into sisal, and this scratching post is covered in it. The fibres are durable and hardwearing, promising lots of quality clawing time. Because it's made from sturdy wood and has plastic feet, the tree will stay in place even if your cat likes to play it rough. It's small enough to be moved easily, and is the perfect size for kittens and little cats. Every moggy knows that the best time for a good scratch is right after a great nap. This post has a soft and snuggly sleeping platform, so your pet doesn't have to go far to get clawing.
Size Guide
| | | | |
| --- | --- | --- | --- |
| Pole Diameter | Depth | Width | Height |
| 7 cm | 30 cm | 30 cm | 45cm |