Skip to content
Skip to navigation menu
Kokoba Training lead for Dogs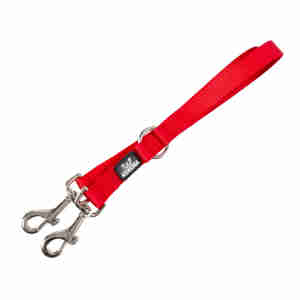 Rollover image to zoom
Product details
Show your dog the ropes with the Kokoba training lead. With this in hand, they'll walk safely and comfortably by your side.
What it's for
This lead is designed for owners of puppies and older dogs who need a refresher course in walking. Got two dogs? No problem, as you can secure both on the same lead.
If your dog pulls on the lead, walks off-route or is easily distracted by the sight and smells of the street, you can use this lead to train and keep them on course. It'll look good on them too, with the choice of red, black or blue to match their doggie accessories.
Key benefits
walk and train one of two dogs on the same lead
made from durable, double-stitched nylon webbing
comfortable for you to hold on to
easily attaches to a collar or harness
extends up to two metres for obedience training
helps steer puppies and adult dogs in the right direction
choose from red, black and blue
suitable for dogs of all ages, breeds and size
How it works
Simply attach the lead to your dog's collar or harness. Its tough, webbed nylon and sturdy O-rings will secure one or two pets. The Kokoba training lead may be tough but it's soft – making it comfortable for you to hold on to. By shortening the lead, you can encourage your dog to stop pulling, train them to 'heel', walk by your side and steer them the right way. The lead extends up to two metres to let your dog fly around in a field too, while the medium cord length lets you teach obedience training such as 'stay', 'sit' and 'come' while out and about.