Skip to content
Skip to navigation menu
Kokoba Transport Crate Fly Kit - IATA Approved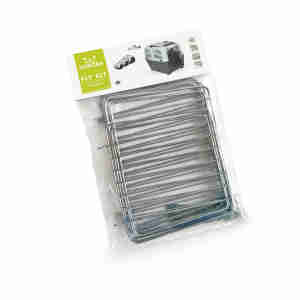 Rollover image to zoom
Product details
The Kokoba transport crate fly kit clips onto your Kokoba Transport Crate so that it's able to come on board airlines with stricter regulations.
What it's for
Although the Kokoba Transport Crate is approved by the IATA, some airlines have stricter guidelines for flying pets. Luckily you can give it a quick update by adding these grids. Double-check they're fitted properly before heading to the airport, otherwise you might have to do a bit of readjustment. If your little buddy's never flown before, they might get a little bit stressed. While some airlines will let you bring your four-legged-friend into the cabin, others will insist that they go in the hold. It's good to check that you're happy with your airline's policy before you book tickets.
To make flying easier for your pet, try to book non-stop direct flights to your destination. Choosing early morning and late evening flights are more comfy in terms of hold temperature, so that's another thing to think about. If your pet's really nervous you might want to sedate them. As well as chatting to your vet, you should also speak to the airline about whether this is okay.
Key benefits
contains three metal grids
approved by the IATA
designed to fit the Kokoba Transport Crate
complies with the additional requirements of most airlines.
How it works
Checking your airline's guidance on transporting live animals is a good idea before booking, as some have stricter rules than others. If yours does, these three metal grids are really easy to fit. Just snap them onto your Kokoba Transport Crate to make it suitable for air travel with strict airlines. If you and your pooch (or kitty) often travel by air, keeping these grids on hand will make sure you're always ready to travel (whatever the airline).