Skip to content
Skip to navigation menu
Kokoba White Coat Shampoo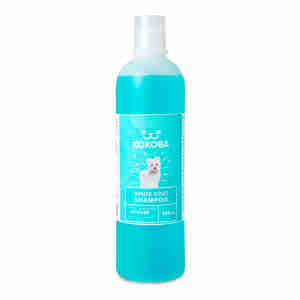 Rollover image to zoom
Product details
Kokoba white coat shampoo keeps your pet's skin and hair in bright, tip-top condition.
What it's for
Kokoba White Coat Shampoo keeps white coats looking bright and pure. There's no bleach in the formula, so it's totally safe to use on pets with patches of different colour. Some popular white-haired breeds include bichon frise and West Highland terrier dogs, and Persian and Russian White cats. There's no special trick to using the shampoo – just use it instead of your pet's usual bath-time favourite. Get them nice and wet with warm water, then massage the shampoo into their coat for about a minute before rinsing it off fully. Massage the shampoo in again and leave it for five minutes before rinsing. It's as easy as that.
Key benefits
500 millilitre bottle
can be used on dogs and cats
brightens and lightens white hair without bleach
removes yellow tints with a powerful but gentle whitening action
professional groomers use it
environmentally friendly formula (90% biodegradable)
pH balance is kind to skin
antioxidant extracts can give hair and skin a healthy boost
anti-bacterial cornflower extract deodorises your pet's coat, so they stay fresh-smelling for longer.
How it works
Powerful but gentle, this special shampoo uses natural ingredients to brighten up white hair. The bleach-free formula gently takes away the yellow tones that come sometimes appear over time. As well as keeping your pet looking their bright and shining best, the formula is also made to be kind and gentle on skin. The pH balance makes it less likely that your pet will have a reaction to it, and antioxidant ingredients help to boost general skin and hair health. Another special ingredient is the cornflower extract, which helps to kill bacteria and keep your pet's coat smelling as fresh and clean as they look.
Ingredients
Water, surfactants, conditioner, lanolin derivative, provitamin E, centaurea extract, silicone quaternium 22, preservative, colouring, fragrance.
Customer reviews
We're sorry but there are no reviews of this product in English.