Skip to content
Skip to navigation menu
Lily's Kitchen Adult 8+ Scottish Salmon & Trout Gluten Free Food for Dogs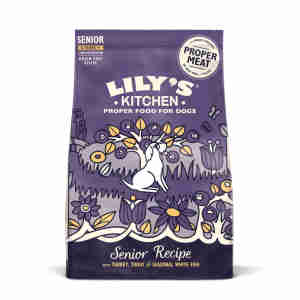 Rollover image to zoom
Product details
Lily's Kitchen adult 8+ Scottish salmon and trout gluten-free dry food for dogs is full of fishy delights for your best friend.
What it's for
This dry food is made with senior dogs in mind. Freshly prepared salmon, trout and turkey are full of omega oils which help with joint health. Green-lipped mussels and extra salmon oil bring even more omega and extra benefits such as maintaining strong bones and muscles in senior dogs. As your pal's exercise regime slows down with age, this tasty mix of meats, vegetables and herbs will keep them fuller for longer – so the pounds won't pile up.
Key benefits
44% fish and meat, all freshly prepared
made for senior dogs aged seven and older
rich in omega oils and glucosamine for healthy joints
green-lipped mussels and seaweed aid brain activity
salmon oil and seaweed aid cognitive development, too
prebiotics, vegetables and herbs soothe the stomach
gluten-free mix
How it works
This dry food is made from salmon, trout and turkey. These tasty proteins contain essential fatty acids which target the areas your senior dog needs help with most. They help keep joints supple, bones strong and teeth healthy. Just to make sure, Lily's Kitchen adds glugs of glucosamine which helps look after hips, too. This gluten-free mix is gentle on tummies with aniseed and prebiotics there to ease digestion. Quality carb potato gives your dog energy and helps them stay full. (Good for waistlines as walkies get a little shorter with age.) Lily's Kitchen adult 8+ Scottish salmon and trout gluten-free dry food is made in the UK from fresh ingredients. The mix contains no artificial flavours, colourings or additives.
Ingredients
Dry Food:
Over 40% Freshly Prepared: Salmon & Trout (26%) Turkey (18%), Millet, Potato, Lentils, Peas, Egg Powder, Nutritional Yeasts, Pea Protein, Turkey Fat, Salmon Oil, Turkey Stock, Vitamins and Minerals, Botanical Herbs (Alfalfa, Golden Rod, Cleavers, Dandelion Root, Nettles, Celery Seed, Rosehips, Marigold Petals, Burdock Root, Milk Thistle, Chicory Root), Potato Protein, Linseed, Psyllium, Green Lipped Mussel, Seaweed Oil, Turmeric, Boswellia, Ginger, Gingko Biloba, Glucosamine (1,420 mg/kg), Methylsulfonylmethane (1,420 mg/kg), Chondroitin Sulphate (1,000 mg/kg), Synergen™ (produced as a result of Enzyme production with Aspergillus Niger)
Wet Food:
60% Freshly Prepared Turkey, Cranberries, Parsnips, Carrots, Sugar Snap Peas, Vitamins & Minerals, Salmon Oil, Green Lipped Mussel, Seaweed, Prebiotics FOS & MOS, Botanical Herbs: Golden Rod, Nettle, Aniseed, Rosehips, Marigold Petals, Cleavers, Kelp, Alfalfa, Milk Thistle, Dandelion Root, Burdock Root, Celery Seed
Feeding Guide
Dog
Dry Only
Wet + Dry
Wet Only
Wet Only
Weight (kg)
Grams / day
Grams / day
Trays / day
Tins / day
Extra Small Dog
30 to 100
For every 100g of Wet reduce Dry by 30g
0.5 to 2
0.25 to 0.5
Small Dog
100 to 220
2 to 3
0.5 to 2
Medium Dog
220 to 330
3 to 4
2 to 3
Large Dog
330 to 420
4 to 8
3 to 4